McDaniel's dining establishments have made changes to in light of the gastroenteritis outbreak that has struck the campus.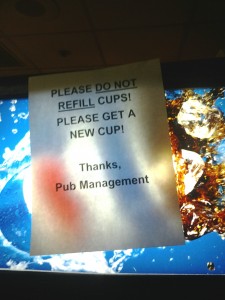 In Englar Dining Hall, most food is being kept behind the counter, including soups and desserts, which are normally at self-service stations. Few dishes are being left out at the stations that still have food, with students being asked to see attendants for dishes and utensils.
Precautions are also being taken in the pub. Drink cups, sauce cups, straws, utensils, and lids are all being kept behind the counter and are available upon request. Customers are being asked not to refill their drink cups, but rather to ask for a new one.
Similar measures have been taken at the Green and Go where, as of Thursday night, milkshake lids and coffee were being kept behind the cashier.
What other changes have you noticed in food service since the outbreak of the McPlague? Let us know in the comments below!