Welcome Week is one of the most event-filled weeks at McDaniel College. With so many activities and events happening, it shouldn't be hard to find plenty of things you want to do. Check out this year's Welcome Week schedule.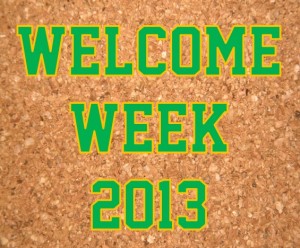 Monday Aug. 26
Visit the Center for Experience and Opportunity (CEO) in Kriel Lounge (by Glar) from 2:00 to 3:30 p.m. to get free cupcakes and fortunes. You'll also learn all about how the CEO can help you find jobs and internships, create resumes, apply to grad school and more.
Treat yourself to some free ice cream by going to the Res. Life open house in Ensor Lounge from 3 to 5. You know you can't pass up free ice cream.
New to Welcome Week this year is PLAYFAIR, a chance for students to break the ice with their peers. It's located in the Forum. This is a way to meet new people and enter a raffle for the chance to win an iPad.
Tuesday Aug. 27
Personalize a free t-shirt with your picture in Ensor Lounge from 12 to 4 p.m. This is a fun way to get creative and make a one of a kind piece of clothing.
Satisfy your coffee craving by going to the World Café, now located in Casey's Corner, from 6:30 to 8:30 p.m. All first-year students who attend will receive $1.50 toward a coffee or drink of their choice.
Get ready to dance and have a great time working out by going to the ZUMBA party in Gill Gym from 7 to 8 p.m.
Become involved with McDaniel's Relay for Life by attending the Relay for Life open house in Red Square from 7 to 8:30 p.m. You can help pick the theme for this year's Relay, which will be held in the spring.
Wednesday Aug. 28
Enjoy shopping for fresh produce and other items at the Farmer's Market in Red Square from 10 to 2 p.m.
Enter for a chance to win a free parking pass by going to Campus Safety's open house in Winslow from 12 to 2 p.m.
Meet the new director of the Office of Diversity and Multicultural Affairs (ODMA) by stopping by the open house in the ODMA office from 12 to 2 p.m.
Join the Writing Center for life-sized Bananagrams in the gazebo by Whiteford from 4 to 5 p.m. Free food and prizes are included.
If you go to no other event this week, go to the Involvement Fair in Red Square and the Quad from 5 to 7 p.m. Eat dinner outside, sign up for student organizations, and score some freebies!
Thursday Aug. 29
Haven't had enough free ice cream? Stop by outside of Glar from 12 to 1 p.m. for a free ice cream sundae bar, courtesy of SASS.
Looking for a job this semester? Check out the part-time job fair in the Forum from 4 to 6 p.m. to find out more about job opportunities on and off campus.
Get some fresh air and stretch your legs by going to play some Ultimate Frisbee from 4:30 to 6:30 p.m. at the field hockey/intramural field.
Are you a woman interested in going Greek this year? Check out the Meet the Sororities event from 6 to 8 p.m. in Ensor Lounge to learn more.
Shoot some hoops in the 3×3 basketball tournament in Old Gill Gym from 7 to 9 p.m.
Friday Aug. 30
Learn about the harmfulness of driving under the influence by driving Campus Safety's SIDNE impaired driving simulator in the stadium parking lot from 1 to 3 p.m.
Go to Green Terror Productions' kick-off meeting in Glar at 2 p.m. to find out about how you can get involved in organizing events and activities on campus.
Satisfy your sweet tooth by going to College is a Cake Walk in Red Square at 4 p.m. Yes, there will be lots of free cake.
Cheer on the team by attending the men's soccer match vs. Southern Vermont in Gill Stadium at 4:30 p.m.
Play some volleyball by competing in the grass volleyball tournament on the lawn by Gill from 4 to 7 p.m. Sign up to play in the Office of Student Engagement, beginning on Monday Aug. 26.
Bring your picnic blankets and folding chairs to the annual Movie on the Lawn at 8:30 p.m. This year's movie is Ironman 3.
Saturday Aug. 31
Wrap up Welcome Week by watching even more soccer. The men's team competes against La Roche in Gill Stadium at 4 p.m.