The making of "Electric Road Trip" was half vacation, half science experiment for McDaniel's Cinema Professor Jonathan Slade and his wife, Novia Campbell.
"Electric Road Trip" is an hour long documentary that captures the road trip Professor Slade and his wife took in July of 2012 across the entire state of Maryland without using any gas. It was all done in their fully electric-powered 2012 Nissan Leaf.
The couple could very well be the first to drive an electric car across the whole state, making this a tale of innovation and possibly a prelude to the future.
"We wanted to see if we could drive a 100% fully electric vehicle all the way across the state using the electrical infrastructure that's there now," said Slade.
Starting in Oakland, MD, they drove from the Western Maryland Mountains, through various cities including Hagerstown, Westminster, Timonium, Annapolis, and across the Bay Bridge all the way to Ocean City – completely on electrons.
Of course, they had to charge the car at various intervals, which requires finding places to do so. Along the way they stopped at public charging stations to 'fill up', but in
some areas, these can be hard to come by. According to Slade, there are no charging stations west of Hagerstown and not many east of Kent Island until you get to Salisbury.
When unable to find a public charging station, Slade and Campbell resorted to 'trickle charging' by plugging into an ordinary wall outlet. A B&B let them run a cord out of a window while another let them charge from the backyard.
Luckily, no one denied them access to electricity when they needed to plug in, and it led to meeting many new people who were curious about electric cars, which Slade described as the best part of the adventure.
The worst part, of course, was the mid-summer heat, though the car did fair well in the high temperatures.
Professor Slade hopes that more people will start using electric-powered cars because it is environmentally and economically practical.
He explained, "We found that an electric car is very practical; it's the infrastructure to charge them that really needs to happen in order for people to adopt them for commuter cars."
"It's economically beneficial because we get 60-80 miles on $2. 80 worth of electricity, so 60-80 miles on less than what you would pay for a gallon of gasoline."
Another benefit of electric cars is the fact that they don't produce pollutants as regular combustion engines do.
Not only is Professor Slade's car good for the planet, so is his house. His home is completely powered by wind, so even when charging his car there he uses renewable energy.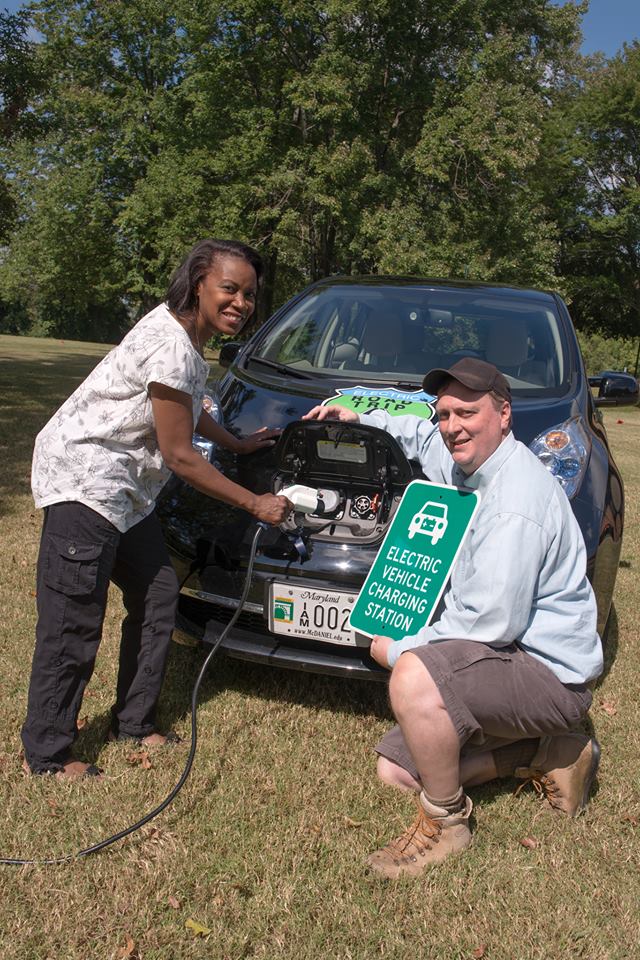 "Electric Road Trip" is not like a normal public television documentary. Rather than consisting of interviews and archival footage, this documenatry shows the electric adventure in actions. All footage was shot on four small GoPro cameras.
"This is very unusual for public TV. It's a cross between, kind of , an informative documentary and a reality show," said Slade. "It doesn't look Ken Burns, it doesn't look like "American Experience", it doesn't look like "Nature" or "NOVA"."
Professor Slade mentioned the possibility of repeating this journey again in five years to see how the infrastructure may change.
"Electric Road Trip" is screening on Wednesday, April 9th at 7:30 pm at the Carroll Arts Center. The cost is $5, but free for McDaniel students who show their ID. The broadcast will air for the first time April 23 on MPT at 8 p.m.
Slade's other documentaries "The Historic Barns of Maryland" and "Eatin' Crabs: Chesapeake Style" run on MPT, so check your local listings if you'd like to see more of Professor Slade's work.
Photos courtesy of https://www.facebook.com/ElectricRoadTrip