Part One: The Beginning
If it weren't for the barbed wire and signage, one could be forgiven for not realizing the true nature of the Carroll County Detention Center. From the exterior, its off-white walls and plain brickwork hearken back to any number of drab government structures from the 1970s. And yet there is still an aura about the place that betrays that which lies inside, one that is so dissonant with the exterior as to make it quite disconcerting.
The lobby does little to ease this feeling, with the one-way glass window, plain white telephone and small gray box for visitors' IDs; on the left, a line of visitation windows sit empty – to the right, a small machine sits, advertising quick and easy deposits to the commissary accounts of the incarcerated. I'm alone, except for a lone woman complaining into a telephone as she puts on her sneakers.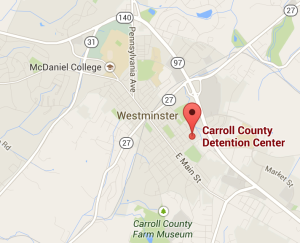 Within a few minutes my guide, Chaplain Bob Kimmel, arrives. He's a jovial man, one might even say slightly quirky, in a plaid dress shirt with a Good News Ministry logo on the breast. After some basic procedures, he takes me down the stairs into what he refers to as "the basement," which contains his office and the multipurpose room. Outside his office, six male inmates, fully garbed in orange uniforms, are doing yoga with an instructor; Bob informs me this is one of many programs offered, including library services and a GED program.
In his office, Bob explains to me a bit more about his organization. Good News Jail and Prison Ministry is a group which, according to their website, aims "to place Christian chaplains in jails and prisons to minister to the spiritual needs of inmates and staff." Bob notes that both he and the group is unaffiliated with the detention center itself, and serves "at the graces and permission of the sheriff."
In the detention center, the Ministry provides religious assistance not only to those of Christian faith, but also to "any recognized/sanctioned religion of the U.S.," Bob says. They currently serve members of a number of religions, ranging from Buddhists to Muslims.
Bob then explains to me a bit about the center: it houses around 250 inmates give or take, a populace that is around 85 percent male and 15 percent female. He notes, however that in recent years the numbers of female inmates has been on the rise. He also goes about explaining how they house inmates from low to high security, with offenses ranging from missed child support payments to murder. These inmates come in not only from Westminster but also from all parts of Carroll County.
To Bob, his work in the prison aims to enrich the lives of those detained, and in many ways to help them better themselves. His philosophy is that "people are people, whether they're wearing orange or not – God loves us all," and that he and his fellow members of the Ministry are "hope givers for people who have lost hope."
It's around this time that the formalities are finished, and the tour begins.
To be continued.