Dec. 4, 1930 "Classes, Clubs, and Societies: Phi Alpha Mu."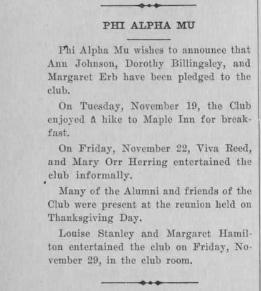 In years past, the student newspaper would devote a section of the newspaper called "Classes, Clubs, and Societies" in which they would talk about what had happened since the last edition with the various clubs and organizations on campus. In this section, Phi Alpha Mu announces new members, as well as activities that had taken place, such as a hike and a reunion on Thanksgiving day.
---
Dec. 10, 1998 "Campus Greeks join to serve community."
In this features article, the author discusses the other side of Greek life, in which members also serve the community above and beyond their required hours. The author lists the many service projects that the four sororities and five fraternities at that time participate in, such as the Race for the Cure in Baltimore and volunteering at the Shepherd's Staff. The fraternities and sororities would also partner on projects together.
---
Sept. 18, 1980, "Administration bans hazing."

This article discusses the administration's decision to ban hazing completely. Dean C. Wray Mowbray explains in the article that this newer policy would prevent many of the initiation practices that take place during "hell week." A committee had met in the 60s to discuss abolishing Greek life on campus, but ultimately had decided to create stricter rules instead. The newer policy that this article discusses was in response to what the administration saw as "backsliding." This ban was met by some hostility by students and acceptance by others, as in a meeting to discuss the new policy students in Greek life reportedly varied in their response from shouting "dictatorship" at the speakers to simply asking questions.
---
Dec. 11, 1951, "Intersorority Basketball."
In the past, sororities and fraternities at the college would participate in a variety of sports, each fraternity or sorority playing against another. In this article, Sigma Sigma Tau, which later became Phi Sigma Sigma, plays basketball with Delta Sigma Kappa, now Phi Mu. Sigma Sigma Tau then played against and was defeated by Phi Alpha Mu.