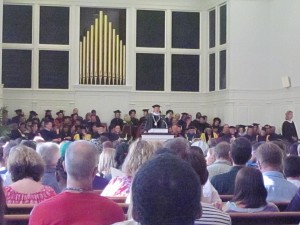 The Introduction Convocation started out normal for the new First Years at McDaniel College.  An organ played while the First Years walked in.  The Professors and faculty were dressed in extravagant caps and gowns.  The parents sat in the back and took frantic pictures.  But normal Introduction Convocations don't have President Roger Casey.
President Casey welcomed the new students with a joke by simply reciting a long line of Latin phrases which he then translated to "Hey, I just met you and this is crazy, but here's my number, so call me maybe."  It's the part of President Casey many have already come to love.  For the First Years, it wasn't any different as they laughed.
He would continue to tell jokes throughout the event as he introduced the faculty standing behind him as "wearing pizza hats and Hogwarts costumes" and encouraged First Years to reach out to them for help whenever needed.
"By choosing McDaniel, you have already proven you have great decision-making," said President Casey.  The Convocation is the official start of a college career and he was excited to see so many start theirs here on the Hill.
Pulling out his iPhone, he told everyone to follow him on Twitter and Facebook and take advantage of social networking, which was an important theme in the book they were required to read over the summer called Deleted.
Others faculty also spoke during the Convocation, like Provost Faulkner who made it a point to talk about the many opportunities awaiting the First Years at McDaniel like study abroad, student-designed majors, and the liberal arts curriculum.
When President Casey returned to the podium, he invited everyone to join in a tradition he started two years ago during his first year as President.  He asked everyone to shout out with him the words: "I am McDaniel College!"  On just the third attempt, Big Baker was filled with the shouts of excited First Years and the parents that support them.
They were now a part of the McDaniel family.
President Casey continued by encouraging First Years to always work hard to achieve greatness but that they were never alone in this endeavor.  "You need partners to achieve greatness," he said.  "This school can help you."
He ended by saying "I believe in this college and I believe in you.  Congratulations!  Now you are McDaniel College."
Afterwards, the First Years took the first step of their new life at McDaniel College by ringing the Old Main Bell.