Good Evening, and welcome to the Free Press' live blog.  Stay with us for the latest election results, for the Presidency, House, Senate, and Maryland Questions.
As of 12:45 a.m., November 7:
President Obama has won re-election
The House will remain in Republican control
The Senate will remain in Democratic control
Questions 4, 5, 6, and 7 pass
–Nov. 7, 1:00 am–
As Governor Romney concedes, and we prepare to close down for the night, one final historical note for you:
Bexar County, Texas tonight voted for Barack Obama, continuing its run as the most predictive bellwether county in America, having chosen the winner in every election since 1928 except for one.  A fun fact to top off a long night.
The Free Press hopes you enjoyed our coverage of the 2012 Presidential Election.
–Nov. 7, 12:45 am–
The Associated Press projects that Questions 6 and 7 have passed.  Same-sex marriage will be legalized and gambling will be expanded in the state of Maryland.
–Nov. 7, 12:23 am–
Governor Martin O'Malley has tweeted the following: "Tonight, we made history. We voted for dignity. We voted for marriage equality."
We will wait for an official call, but all signs point to Maryland and Maine becoming the first states in the nation to have voters approve same-sex marriage.
–Nov. 7, 12:21 am–
NPR is declaring victory for the President in Virginia.
–Nov. 7, 12:16 am–
WBAL Radio is reporting that Maggie McIntosh, a legislator who has championed same-sex marriage in the state of Maryland, is declaring victory on Question 6.
–Nov. 6, 11:58 pm–
Question 6 remains to be the close race of the night.  It currently leads by about 45,000 votes.  We are still waiting in precincts in several municipalities to return results.
Baltimore City, which has been favoring the Question so far, has the most polling stations left to report at 122, followed by Baltimore County, which is leaning "for" at 95, Prince George's County, which is leaning towards "against" at 77, and Howard which is favoring the Question at 58.  11 precincts are still out in Harford and Washington counties which has opposed the bill, but they should not swing the race in a particular direction either way.
–Nov. 6, 11:41 pm–
AP says Question 5 will pass, leaving the state's congressional map as it was voted on tonight.
–Nov. 6, 11:30 pm–
As we wait for returns on the referenda, an interesting fact to note now that the Presidency, House, and Senate will not change hands: Experts say that over $4.2 billion dollars have been sunk into the races for the White House and Congress.
–Nov. 6, 11:23 pm–
There is one bit of intrigue left in this election night as it pertains to the Presidency: will Barack Obama win the popular vote?  We are looking at Mitt Romney holding a 1.3 million vote advantage in the national popular vote.  Votes still need to be tabulated in many places, including California, which may eviscerate this margin, but otherwise, we may be looking at a presidential election that is a turning point in American history with regards to how our votes are cast.
We still are watching the referenda, which are showing slim majorities favoring both Question 6 and Question 7.  Question 6 is winning by about 30,000 votes with 67% reporting, and Question 7 is winning by about 70,000 votes with 63% reporting.
The Associated Press is projecting that Maryland voters will pass Question 4, making the DREAM Act into law.
–NOV 6, 11:15 pm–
Many media organizations have called Ohio and Oregon for President Barack Obama.  We can now project that the President has won a second term.
–Nov. 6, 11:13 pm–
AP and CBS has called Iowa for Obama.  Six more for Obama, he leads 250 to 203.  Any combination of Oregon and any of the large swing states (FL, VA, OH) will win Obama a second term.
–Nov. 6, 11:09 pm–
BBC has called Missouri for Romney and Maine's other elector for Obama.  Our score is Obama 244, Romney 203.  Obama is 26 electoral votes away from a second term; Florida would deliver it to him.
–Nov. 6, 10:59 pm–
11:00 and the biggest news is back east, where the Associated Press has called North Carolina for Romney.  That makes it 189-172 in Romney's favor before the 11:00 closings, which have given Washington, California, and Hawaii to Obama and Idaho to Romney, which gives Obama a 243-193 advantage.
There are some false rumors abounding that the Denver Post has called Colorado for Obama.  The paper has announced that this is not true.
–Nov. 6, 10:48 pm–
As we wait for the 11:00 results, Maryland's Question 6 on legalizing same sex marriage is winning by about 30,000 votes.  Significant numbers of votes are still left to be counted in Anne Arundel County, Baltimore City, Howard County, and Montgomery County (where it is winning), as well as Baltimore County (where it is almost even) and Prince George's County (where it is losing).
–Nov. 6, 10:38 pm–
Summary of the night so far?
"When FOX News becomes pessimistic, you know you're in trouble if you're a Republican." – The BBC's David Dimbleby
–Nov. 6, 10:33 pm–
It's also fascinating to watch that, again, despite all political guidance otherwise, all eyes are on Florida, again.
NBC has called Arizona for Romney, which would put him up 174 to 172.  However, we are about 20 minutes away from 78 votes being placed into Obama's column when the west coast (namely WA, OR, CA, and HI) closes.
–Nov. 6, 10:28 pm–
It's fascinating to watch the split between the popular vote (which Romney is winning) and the electoral vote (which Obama is winning).  No popular-electoral split has ever elected a Democrat over a Republican.
–Nov. 6, 10:20 pm–
Most news outlets are projecting New Mexico for Obama, and the leftover electoral vote in Nebraska for Romney.  Obama 172, Romney 163
–Nov. 6, 10:07 pm–
Speaking of ill-advised comments sinking campaigns, Todd Akin has been defeated by Claire McCaskill in the Missouri Senate race, according to NBC.  Apparently, if a candidate is legitimately stupid, the electorate has ways to shut that whole thing down.
–Nov. 6, 10:04 pm–
An update on Maryland's Questions 6 and 7.  With about 20% reporting, including all early votes, both questions are passing with 52% of the vote.
–Nov. 6, 10:01 pm–
The BBC projects Romney has won Montana and Utah, gaining 9 votes.  Obama 167, Romney 162.
–Nov. 6, 9:58 pm–
We are waiting for the 10:00 poll closings, including swing states Iowa and Nevada.  We are also waiting for other swing states that have been counting for a while, and it increasingly appears it will be impossible for Romney to win outright without Ohio.
In local news, Democrat John Delaney has defeated sitting Congressman Roscoe Bartlett in Maryland's 6th District.
–Nov. 6, 9:55 pm–
A case where one moment defined a campaign: FOX News and the New York Times are reporting Richard Mourdock has been defeated by Joe Donnelly in the Indiana Senate race.  You may recall that Mourdock made the infamous comment in a recent debate about rape and the will of God.
–Nov. 6, 9:53 pm–
The BBC projects Obama the winner in New Hampshire and Minnesota.  Obama 167, Romney 153.
–Nov. 6, 9:43 pm–
While we are in a lull in returns, I will briefly tell you that the tie scenario is still in play, if Obama wins Ohio and New Hampshire, and Romney wins Nevada, Colorado, Florida, North Carolina, Iowa, and Virginia while each candidate holds the line in states they are expected to win.  A 269-269 tie would be settled by the House of Representatives.
–Nov. 6, 9:27 pm–
Several news networks have called Wisconsin for Obama.  The vote is tied 153-153, and has basically made it very difficult for Romney to win without Florida, Virginia, and Ohio.  Nervous moments on both sides…
–Nov. 6, 9:20 pm–
Most major networks have awarded Pennsylvania to Obama.  Romney's lead is now 153-143.
–Nov. 6, 9:14 pm–
Beware of typical campaign spinning, but the BBC's Ian Pannell with the Romney campaign has tweeted the following: "Romney's Communication Director Gail Gitch claims " Ohio looking positive, Obama is under performing."  Take it for what it's worth.
–Nov. 6, 9:12 pm–
ABC and CNN have projected that Republicans have retained control of the House of Representatives.
–Nov. 6, 9:00 pm–
The BBC has called Arkansas, Kansas, Louisiana, Wyoming, North Dakota, South Dakota, and Texas for Romney.  New York and Michigan have been called for Obama.  Romney still leads 153-123.
–Nov. 6, 8:54 pm–
Mississippi is projected for Romney.  The former governor of Massachusetts now leads 82-78.
–Nov. 6, 8:51 pm–
It's still very early, but with early voting coming in from Maryland, all four controversial questions are winning.  There's still plenty of time for this to change.  More polls close at 9!
–Nov. 6, 8:41 pm–
At 9:00 Eastern, we'll have another slew of polls closing, including Texas, New York, and competitive states Minnesota and Wisconsin.
–Nov. 6, 8:33 pm–
The BBC has called Tennessee for Romney.  Obama still leads 78-76.
–Nov. 6, 8:30 pm–
The BBC has called Alabama for Romney and New Jersey for Obama.  Obama leads 78-65.
–Nov. 6, 8:25 pm–
Connecticut has been called for President Obama.  The President currently leads 64-56.  Arkansas closes in five minutes.
–Nov. 6, 8:19 pm–
ABC and FOX News have projected that Ben Cardin will be re-elected to the United States Senate, representing the state of Maryland.
–Nov. 6, 8:10 pm–
We have about four different channels on right now, and each of them have different counts.  Some stations have quicker trigger on calling states than others.  This is the map and the count we have right now, based primarily on the BBC's projections: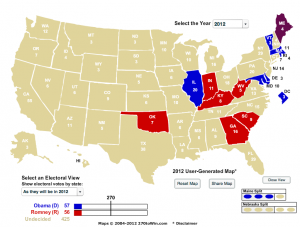 Of the 8:00 states, Alabama, Connecticut, Florida, Mississippi, Missouri, New Hampshire, New Jersey, Pennsylvania, Rhode Island, and Tennessee have not yet been called, along with Ohio, North Carolina, and Virginia.  Stand by for more details on those.  Maine is purple because they have one electoral vote undecided (they apportion by congressional district).
–Nov. 6, 8:00 pm–
Many polls have just closed.  The BBC has called Maryland, Maine, District of Columbia, Illinois, Massachusetts, Delaware and Rhode Island for Obama. They have also called Oklahoma called for Romney.  This gives Obama a 57-56 advantage in the Electoral College.
–Nov. 6, 7:46 pm–
The count right now may make this race seem like a landslide for Romney, but coming up at the top of the hour we'll see a cascade of states that Democrats are likely to win, including Illinois, Massachusetts, and Maryland.
–Nov. 6, 7:39 pm–
We're 20 minutes away from the polls closing in 18 states, including Maryland, and battlegrounds Florida, Michigan, New Hampshire, and Pennsylvania.  VA, NC, OH are still too close to call.
–Nov. 6, 7:30 pm–
The BBC is reporting that Mitt Romney has won West Virginia.  Ohio and North Carolina are too close to call.  Romney leads 49-3.
–Nov. 6, 7:22 pm–
The polls are still too close to call in Virginia, which are one of the key toss-up states tonight, along with Ohio, Colorado, Florida, Iowa, Nevada, New Hampshire and Wisconsin.  We're also closely watching the returns in Michigan, Minnesota, and Pennsylvania, which the President is expected to hold, and North Carolina, which Romney likely needs to win.  We'll see the polls close in North Carolina and Ohio at 7:30.
–Nov. 6, 7:17 pm–
NPR has called Georgia and South Carolina for Governor Romney.  This would give Romney a 44-3 lead if it verifies.
–Nov. 6, 7:00 pm–
The states of Indiana and Kentucky have been called by the BBC for Governor Mitt Romney, while Vermont has been called for President Barack Obama.   This gives Romney an early 19-3 advantage.  Georgia, South Carolina, and Virginia are currently too close to call.