So I've been keeping a close eye on the government and how they're dealing with this whole "government shutdown" and I have to say, I've felt like everyone in government has been behaving like a bunch of three year olds. That was, until a friend of mine decided to send me a video.
There has been a lot of condemnation by both parties regarding who is to blame for this government shutdown. With Republicans shouting and crying that it's Obama's fault and Democrats pointing at the Republicans, half the time I just want to yell "does it freaking matter?" But while some of us may or may not agree with President Obama and his Affordable Care Act (which, by the way, was passed into law March of 2010 whether we wanted it to be or not) one thing has become blaringly obvious: the Republican Party appears to be the sole agent behind the fiasco that has become the government shutdown.
A video published on Oct. 12 under the YouTube account titled "Chris Van Hollen" after the Democratic House Representative from Maryland shows Hollen questioning Representative Jason Chaffetz (R-Utah) a member of the House oversight committee, about House Rule 22 Clause 4 which states:
"When the stage of disagreement has been reached on a bill or resolution with House or Senate amendments, a motion to dispose of any amendment shall be privileged."
In other words, when an amendment to a bill or resolution (in this case "Obamacare") has created such disagreement, any member of the House might ask to dispose of that amendment and that motion will be given special status.
Or at least that's what it used to be.
House Resolution #368, made on Oct. 1, changed this drastically; now, a motion to get rid of pesky amendments in a resolution or a bill can only be brought forth by the House Majority Leader, as per House Resolution 368:
"Sec. 2. Any motion pursuant to clause 4 of rule XXII relating to House Joint Resolution 59 may be offered only by the Majority Leader or his designee."
Let me restate that: the only person who can bring forward such a motion is now House Majority Leader Eric Cantor (R-Virginia).
One more time, just in case I wasn't clear enough: the only person who can make a motion to forego all of this government shutdown business, is a member of the very party who decided it was a good idea to allow it to proceed.
Van Hollen refused to be silenced by Chaffetz, striving to understand the House Resolution and the actions taken by the House by using parliamentary inquiries, keeping himself and anyone watching the video informed of the actions of the House.
If you watch the video, you'll hear Van Hollen say "Democracy has been suspended." and it certainly does seem like it has been. With the power to reinstall the operation of the government solely in the hands of the very ones who wanted the shutdown, one has to ask whether this plan was thought through, and if it is this a good idea.
As the shutdown enters its fourteenth day on Monday with no agreement having been reached between the parties, one begins to question how long this game of political chicken will continue. Considering that the Affordable Care Act was passed into law three years ago by Congress, it seems unlikely that the Republicans will garner any momentum using their current strategy.
Neither would winning the 2016 Presidential election, as a President cannot legally repeal a law (although disallowing his Cabinet to enforce the law might render it useless).
With all of that aside however, I think most people (Republican, Democrat, or anything else) are just done with this situation in general. The shutdown isn't affecting any change in the Democrats' approach, and it's causing more harm than good to the thousands of Federal workers, out of work without pay.
Regardless of whether or not one agrees or disagrees with the ACA, shutting the government down and complaining about something already deemed constitutional by the very system you claim to uphold, seems like a horrible way to get anything done. If it ain't broke, don't fix it.
I guess the final question here is whether or not the Republican Party has hung itself with its own noose, and if so, how is it going to find its way out of this cavernous government shutdown issue? I guess we'll all sit here, students, government employees and other ordinary folks, and find out like we do everything else: when it begins to undesirably affect us.
If you want a short example of what it's like to negotiate in this way, about something that is already law, look to Judd Legum and his hilarious tweet.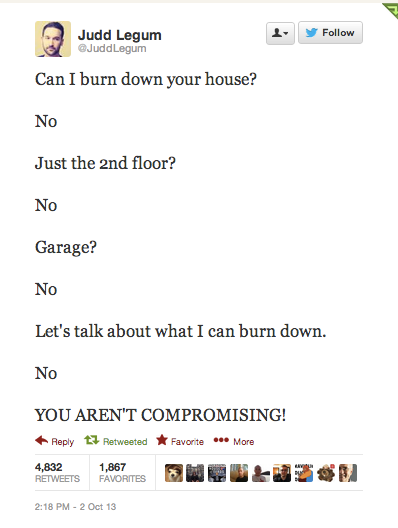 This tweet was read on the House floor by Democrat Mike Doyle of Pennsylvania.
With the government shut-down now done and over with one can't help but wonder what the Republican plan was. If showing that they would "stand strong" against something previously approved while holding the country hostage was their plan, then they succeeded. If not, what was it? While President Obama's strategy for handling the shutdown may not have been looked on with favor, the Congressional Republicans came out the worst, and the Tea Party wing has been accused by Democrats of using belligerent tactics.
How much of this issue was brought on by the Republicans as a whole, and how much by the party's Tea Party wing? With Ted Cruz (R-Texas) looking like a lunatic, House Speaker John Boehner (R-Ohio) has been able to use the failed Tea Party tactics to Republican advantage, especially when it comes to being considered major players in the reopening of the government. Boehner has been able to credit himself as allowing the government to reopen on a mostly Democratic vote. Meanwhile, Senate Republican leader Mitch McConnell (R-Kentucky) has put himself on the wrong side of the Republican Tea-Partiers by agreeing with many of his fellow GOP senators that the shutdown was a bad idea and brainchild of the Conservative Right, and that reopening the government was a priority.
Was the shutdown just a pre-show to coming events and coming aggressive tactics on the part of the Tea-Partiers, or is this it? Cruz says he is determined as ever, saying "I would do anything, and I will continue to do anything I can, to stop the train wreck that is Obamacare." With individuals like Cruz, who seem determined to push forth their political ideology rather than negotiate and compromise and see reason, what is the future for the Tea Party leaders, and the Republican party in general?
Sources
On House Motion:
http://www.gpo.gov/fdsys/pkg/HMAN-112/pdf/HMAN-112.pdf
On House Amendment:
http://thomas.loc.gov/cgi-bin/query/D?c113:1:./temp/~c113xqWfNG::
Tweet:
https://twitter.com/JuddLegum
Ted Cruz speaking (Video):
http://nation.foxnews.com/2013/10/20/ted-cruz-will-'continue-do-anything'-stop-obamacare