A variety of citizens gathered in the Carroll Arts Center to see retired CIA officer and current artist Tony Mendez on Friday, Nov. 8. Accompanying him was his son, Toby, a sculptor, who designed a sculpture to add to the local library's sculpture garden within the next year. They were both interviewed by McDaniel's own Dr. Upton, followed by Toby's presentation of his design.
A Hero's Story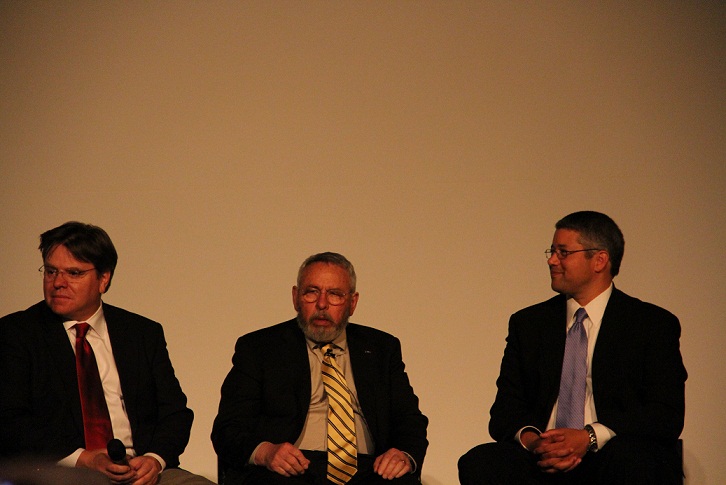 Tony Mendez is the subject of the Academy Award-winning film Argo for his efforts to bring six American diplomats home during the Iranian hostage crisis in 1980. His career in the CIA began a few years after studying art at the University of Colorado. He answered a newspaper ad in the Denver Post seeking an artist to work with the Navy overseas. Soon enough, he found out that the ad was for a completely different job.
Mendez described his interview to an intrigued audience. He said it was in a dimly lit motel room with the curtains drawn. He recalled his interviewer telling him straight up, "this ain't the Navy." After another interview, Mendez found himself working for the CIA in the technical operations division.
And the rest, as they say, is history.
Mendez's art expertise came into play numerous times throughout his career, since he was crafting disguises and forging documents. He said it required him to "think in a different way" and that he had to be "agile, creative, [and] innovative."
"To make it happen is no small trick," he added.
When Mendez was called upon to devise a plan to save the six diplomats, he did not hesitate to get creative. He planned to have a group pose as a Canadian film crew looking for locations to shoot. That was the easy part.
He then talked about having to pitch the idea to various United States government officials as well as the Canadian government. Mendez said he used the element of disbelief to help them agree to the plan.
He also had to extract the diplomats without them being recognized. So, backstories were created for each of them, which they had to memorize, and Canadian passports were made for them.
Mendez said the CIA did a lot of background research on the diplomats before formulating their fake backgrounds, so they were comfortable enough with what they had to do. He said they claimed to have fun with their temporary identities.
He explained that every detail had to be accounted for in this operation. If even one of the diplomats slipped up and hinted his or her true identity, the whole plan would be ruined. Mendez said he had faith that it could be pulled off, but admitted he had some reservations.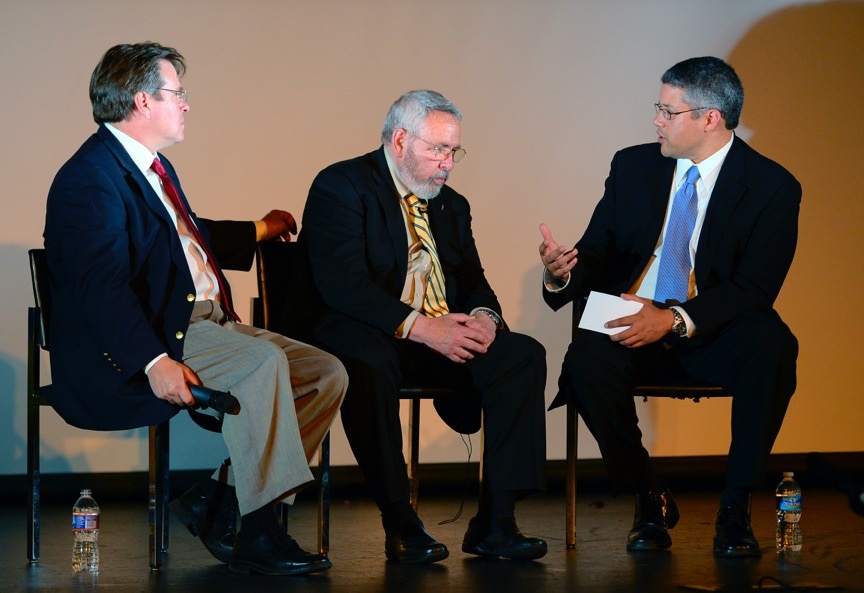 As we all know, the mission was a success and the diplomats returned safely to the United States. Mendez was given the Intelligence Star a few months later for his efforts. He now resides in Washington County, Maryland and continues his passion for art.
New Library Sculpture Design Revealed
Tony's son, Toby Mendez, is a highly accomplished sculptor with works across Maryland and the United States. After attending the Art Institute of Chicago, he has worked with organizations around the country creating bronze sculptures commemorating significant people or events in history.
Some of his works include the six Baltimore Orioles Hall of Famers in Camden Yards, a portrait bust of Thurgood Marshall in BWI/Thurgood Marshall Airport, three panels on the U.S. Navy Memorial in Washington D.C, and a Mohandas K. Ghandi memorial in Long Island, New York among many others.
Mendez explained that he does extensive research on his subjects in order to accurately depict them in sculpture form. For the library's sculpture, he wants to display the agricultural history of Carroll County. He talked about family farms and showed how they have evolved over time. In his piece, he has farmers bringing in the hay crop, a horse drawn wagon, and a woman tending to a mule. The actual projected piece will be 5 ft. x10 ft. and placed on the outside brick wall of the library.
The sculpture entitled "Our Family Farm" will be revealed in Sept. of 2014.
This event allowed people to hear a firsthand perspective on the Iranian hostage crisis, and it raised awareness of the local arts scene in Westminster. The library received $1000 to kick-start the funding for the sculpture and will accept donations from the community as well.
FEATURED IMAGE PHOTO courtesy of Joyce Muller and the Communications & Marketing Department