Our cadets journeyed to Mount St. Mary's for the day to experience another important learning opportunity in their ROTC careers here at McDaniel. The purpose of this trip was to develop land navigation skills and learn to take care of wounded soldiers in the field. We arrived at the university around noon. There was a massive, 50-60 team lacrosse tournament occurring at the same time as our arrival, which occupied all of the athletic turf. The wind was blowing extremely hard and the weather had taken a turn for the worse; it was getting colder as the sun was not shining that day.
For the land navigation, the cadets were given perimeters around the woods and property of Mount St. Mary's: Frederick Road to the south, College Avenue to the west, and US-15 to the north — other barriers were the tournament areas. They were divided up into eight squads with the MS4's leading each squad.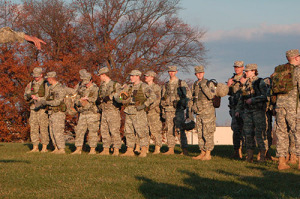 We followed the third squad who went to their first location. They got down on the ground and began to map out coordinates using protractors. Then, along with the other squads, they moved over a small creek into the wooded areas behind the main campus. The cadets got to enhance their 360 degree surveying and checking skills as they got into formations at various points in the woods. The area was thick with vegetation and the trees blocked a lot of the view of the cadets, giving them camouflage.
The medical rescue simulation consisted of one cadet acting as a wounded soldier in the field, and other cadets practiced ways of carrying the soldier back to safety. The cadets were shown how to properly handle a wounded soldier and ways to avert being spotted and taking as little time as they could getting them to safety.
Towards the end of the day, chaplains from Mount St. Mary's talked with the cadets about how to properly handle an emotionally unstable soldier and the safety precautions on how to go about that. They switched on and off from the talk to climbing up a mountain slope with all of their gear and group equipment.
The cadets learned valuable skills in terms of mental sharpness, how to deal with needing quick reactions to injuries and emotional turbulence, and more physical endurance. The terrain at Mount St. Mary's provided various advantages to their training, and they will be taking a lot out of this training day.