The McDaniel Community gathered in Baker Memorial Chapel last night, April 29, to create a space for students and faculty to reflect on the current turbulence in Baltimore and the rest of the nation after the death of Freddie Gray.
The event, titled "Believe: Bigger Than Baltimore, Coming Together to Heal as One" was organized by students and clubs as well as the Office of Diversity and Multicultural Affairs, Residence Life and Student Affairs. Students and faculty listened to testimonies from their peers and joined in singing and candlelit moments of silence.
The event started with Malcolm Jones and Briahna Harris singing "Amazing Grace." The first verse was sung twice, with the second time including the audience.
Dr. David Blanding, a professor in the political science department and the opening speaker, encouraged the audience to "resist the temptation to seek simple explanations and justifications" through the night's course. He wanted attendants to listen first as speakers would help them to understand "a little more about the world we share."
Kyle Cholakian was the first student speaker and, although he is not from Baltimore, highlighted that one does not have to condone behavior in order to understand it. He pointed out that hardworking communities within the city are working for a better life but are also struggling. As a campus he felt that "we can set the example for what we want the nation to accomplish" in terms of helping to break down societal barriers and address complex issues.
Dr. Pamela Zappardino, a co-director of the Ira & Mary Zepp Center for Nonviolence and Peace Education and a Baltimore native, shared an excerpt from Dr. Martin Luther King Jr.'s speech, "The Other America" before turning to an examination of true nonviolence. Zappardino said that the nonviolence often discussed today is not the nonviolence of Dr. King but instead is "formal passivity, negative peace." She encouraged the audience to consider the type of nonviolence that challenges and exposes underlying tension, is disruptive by definition, and heals, as opposed to that type that is complacency with violence brewing underneath.
Erica Owusu opened with declaring Baltimore her home away from home. As an immigrant to the States, she expected more from America and felt she had been let down. She has seen virtues and values unequally distributed and privileges that she had been told would be afforded to her stripped from people of the same race.  "Police brutality is nothing new." Owusu listed other men who had been victims of police brutality, "other Freddie Grays", that the public did not know as much about. "When is enough enough?" she asked before wondering if America was truly the great country it claims to be.
Dr. Katie Staab, a biology professor whose "love of life" brought her to speak, encouraged listeners to think past the surface. She provided two pieces of advice to help with this: get curious and have compassion. Staab wanted those with privilege to not believe that their position leaves them unaffected and ended with stating her amazement with students who organized the event and continue to speak out. "You did this," she said in reference to the creation of the vigil. "Let's not let each other get complacent."
Jelea McNeil started with a focus on the ubiquitousness of such tragedies, stating that "it wasn't but six months ago we were in Red Square for Mike Brown." These events affect us all and that, to truly understand them, she believed there must first be action within the McDaniel Community. "It starts at the top," McNeil said. She stated that the McDaniel community is unable to help others if we cannot first help ourselves become a more open community. McNeil expressed a desire for the campus to come together and support each other more frequently, not just when tragic events occur.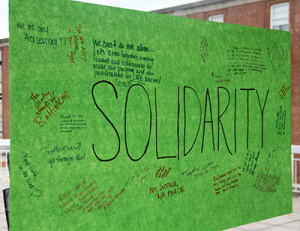 Elijah Jones wanted attendants to understand how the climate in Baltimore feels from the perspective of a teenager living there. He described living in Baltimore as feeling "like suffocation." Jones stated that teens are "beaten down by [their] city" and that several systems meant to help them have instead failed them, leading to a need to release pent up anger. Jones went on to declare, "I am Freddie Gray. Everyone I know is Freddie Gray" and ended his portion with asking, "When won't I feel afraid? When will I feel safe in my city?"
Dr. Jim Kunz highlighted the worsening conditions within Baltimore that have been occurring for years.  Higher rates of unemployment and poverty, amongst other factors, have led to increasing tension. Kunz went on to mention that these issues are close to home with the fact that "several students on campus have shared stories about being disrespected" due to their race. Conditions of the city paired with racism provided a rationale to certain reactions. Kunz wondered what reactions in Baltimore will mean for all communities and particularly the McDaniel community. Launching from Dr. King's question of whether or not America was ready to make massive change in the 60s, Kunz asked "are we prepared to do something now?"
President Casey was the last speaker of the night and started with a moment of silence for Freddie Grey and all victims of injustice. He went on to briefly summarize all that he had heard and learned from the night's speakers. With their views in mind he stated his belief that "salvation lies in education," with education being the key to transformation and action. Stating the First Principles as a point of inspiration, he went on to state that "[we] are the potential for change, to make a difference." Casey said that we must "reflect on our places in injustice in order to make change" and, while there are no easy solutions, we have been called to act.
Casey then led the candlelight vigil, in which audience members passed the flame from candle to candle before a moment of silence. The moment ended with Casey referencing the College's motto, "out of darkness, into light." After the vigil, several students noted their appreciation for the event.
"It showed a good contribution," Raymond Boly said. "I felt like it was well-needed in our time."
Kara Kurzawa agreed  that the ceremony was beneficial to McDaniel, saying, "It brought us together as a community, I think, and we now know the next steps to take to make a difference."
The podium in Big Baker became a conduit through which necessary ideas and values that are often forgotten could be heard.
Rachel Guthall said, "I think most people only see one side of it. To have that presented – it's giving a perspective that a lot of people don't have to think about."
"It spoke for the black voices in, not even just Baltimore, but America all around," Breon Herbert explained, "because a lot of us are also going through this – this isn't just in Baltimore or L.A., but this is everywhere and our voices need to be heard and it's a great thing to have support from all races."
Briahna Harris felt that the event provided a nurturing atmosphere. She stated, "I think it's a good support system to show that people are there, people that do care even if they don't necessarily know personally how it feels or what's going on."
Click here to see photos of the event.