What is your preferred name and major(s) and minor(s)?
My name is Melanie. I'm an English and Sociology major with Writing and Urban & Community Studies minors.
What are some of the jobs you held at McDaniel?
I was a tutor at the illustrious Writing Center
What organizations were you part of at McDaniel?
I've been a part of Allies, Genitales, DEEP and of course the Free Press (I might have missed something…)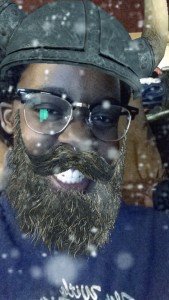 Tell us more about your story at McDaniel. How much did you enjoy your time at McDaniel? 
How much did I enjoy my time? It was aight you know.
Who do you think is/was your best mentor(s)? 
Dr. Mary was definitely my best mentor.
What were some of the challenges you encountered and how did you overcome them?
Man these questions are deep. I guess one challenge has been conflict within student organizations. Overcoming it required (the strength of the good lord himself) being open to others thought processes.
What are your plans for after graduation?
You know my plans man, Fulbright to India and what not. But after India I hope to go to grad school for film and tv.
What is your best memory at McDaniel? What is your worst memory at McDaniel?
I can't pinpoint a specific "best" memory – I think my best memories are little things like flying a kite with my freshman year roommate or arguing over uno.
Worst memory has probably been pushed back in to the recesses of my mind.
What advice can you give to those not graduating?
Do you boo. As corny as it sounds, be true to yourself. You'll be happier once you accept that you're weird and are okay with living in that.
Anything else you want to share with the world?
Don't vote for Trump.