Dec. 17, 1975, "Students Riot Over Food."
This newsworthy article, written by Jeff Robinson, reports the escalating events from the altercation of a student with a cafeteria worker to the 1,300 student protest of the cafeteria food. After a cafeteria worker (referred to as the cafeteria bouncer) chastised a student for not finishing his meal, the student upended the tray on the floor. The rest of the students in the cafeteria took his side as he was told to clean up the mess, with people beginning to throw food and shout about the poor quality of the food. Though the administration attempted to subdue the angry students by promising to punish those involved in the food fight, they found the majority of the student body protesting with signs (such as "Better Dead Than Fed") at all the entrances to the college. After realizing that they could not convince the students to stop, the administration compromised by promising to make the quality of food better. However, because of that students would only be allowed one helping, rather than buffet style. With the often heard complaint about food in the dining hall continuing today, it is interesting to note how this same issue has been uniting students for decades.
---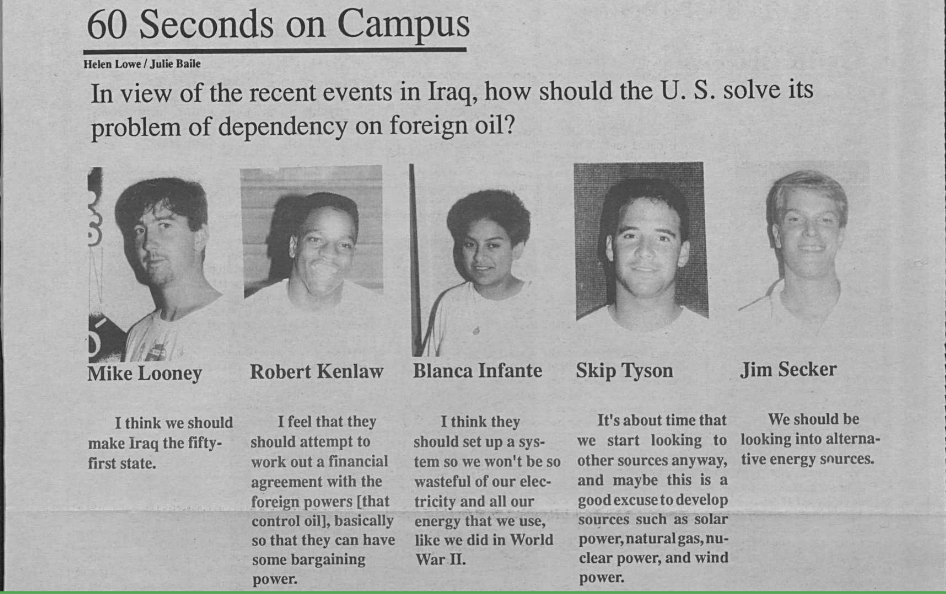 Aug. 30, 1990, "60 Seconds on Campus."
In this article, five students were asked what they thought about how the U.S. should solve its problem of dependency on foreign oil. Though this was from over 20 years ago, this column is still often featured in The McDaniel Free Press today.
---
Dec. 11, 1941, "The War and the College Student."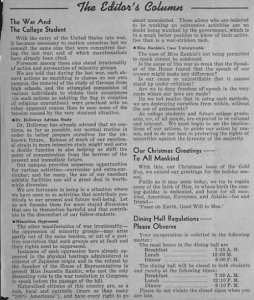 This letter from the editors addresses the entry of the U.S. into World War II. In this article, the authors remind the student body that the college president Dr. Holloway had advised all to continue to focus on their studies, but try to do something positive for the war. The rest of the article devotes itself to warning students against targeting minorities because of the war, calling such actions irrational. As college students, the editors advised the students to remember their duty to being rational and protecting the rights of minorities.
---
Sept. 21, 1954, "Work Starts on New Men's Dorm."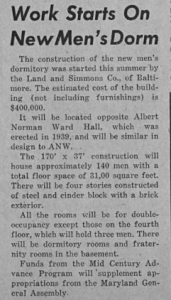 This article announces the construction of a new men's dorm across from Albert Norman Ward Hall. The plan for the building at that time was that it was to be four floors high with a brick exterior. The plan involved having all rooms be doubles, except for the fourth floor, and to have room more more dorms and fraternity club rooms in the basement.
Read more of McDaniel's student news publication through McDaniel Archives.