Jake Fine, a member of the second to last graduating class of music majors, graduates this Spring. He leaves behind a legacy of leadership, music, and kindness on the Hill as a 'dorm-hold' name, leader in various student organizations and dedicated musician on campus and in the Westminster community.
In addition to studying music, Fine is in the five-year education program, the Master's of Science in Teaching Instrumental Music K-12. While graduating undergraduate in May of 2021, he will be staying in Westminster over the summer to pursue community involvements and, for at least the next year, to complete the remainder of his degree in its fifth year. Fine plans to become a teacher at the middle or high school levels, and hopes to get involved in the world of higher education as well.
During his time at McDaniel, Fine has worked many jobs including being a student intern for McDaniel's Making Rock course, a Green level student ambassador, a local leader for the summer of 2020, and a 'floater' peer mentor for orientation. Off-campus, he was a member of the sales team and a drum instructor at Coffey Music in downtown Westminster. Fine has also been a gigging musician in the area for the past three years. During his continued stint in Westminster for graduate school, he will be working on an EP and staying involved in the local music scene as a drummer and concert organizer.
On-campus, Fine has held numerous positions across a variety of organizations: founder and president of McDaniel Live Music club, founder and hub coordinator of Sunrise McDaniel, president of Music Meditation Club, viceroy and chancellor of Danger Sauce improv troupe, treasurer of the Beta Alpha Chi music honor society, active member of Progressive Student Union, and member of Green Life, Jewish Student Union, McDaniel Yoga, and the Cultural Leadership Council.
Fine reflects fondly on a favorite memory at McDaniel – the first ever live music club concert, "That feeling of knowing that it really was possible to have a dream and to execute it was beautiful. Dancing with friends when the music started, feeling relieved and exhilarated and just wanting to make it happen more." He recalls the swirl of sensations, seeing the lights come together and the logo banner in the background, the sounds of guitars and drums and the imperfect feedback blaring through the PA system. 
"McDaniel has given me the opportunity to become the leader I didn't know I was," said Fine.
As a prominent leader on McDaniel's campus, Fine has experienced the plethora of challenges that accompany student organizing. Observing and critiquing the tribulations facing McDaniel is how Fine got his start on the Free Press staff as a commentary writer. He contributed to the Free Press beginning in the Fall of his junior year and was promoted to the editorial team as an assistant editor at the beginning of his senior year.
"What I love about journalism, in general, is that you really have an opportunity to get the feeling and vibe of a place and then to represent that in the moment and in history," said Fine. At McDaniel, he has found that journalism informs the community on happenings across campus and empowers him to make his voice heard. "I love telling stories," he adds, "and I love our staff."
Fine has written on and challenged lagging administrative responses to community issues and student apathy. He hopes we can challenge these notions by "asking more of each other, understanding our shared goals, and creating a culture of hope instead of fear," said Fine. "Showing up with whatever you can to make something better, with the tools that you have and with the help of other people."
A committed lifelong learner and leader, Fine passes along his advice to current and future organizers who may face these challenges and others unique to their years, "Believe in yourself, immerse yourself in community, and follow what gives you hope. The work of organizing is lifelong," said Fine. "If your organizing work gives you meaning, even when times are hard, you will feel guided by a sense of purpose."
He considers the lessons he has faced during college to have significantly developed who he is as a person, "I have made valuable connections that have and will change my life personally and professionally. I have known that being here at McDaniel is a choice, and I wouldn't have continued to choose it if I did not have a love for it– for my friends, for my professors, for the music I have made here, and for McDaniel's involvement-focused structure that has allowed me to get deeply involved in so many different areas" said Fine. "I couldn't say if I've grown because of or in spite of these challenges. But either way, I have grown."
In reflection, Fine attributes McDaniel's environment, comprised of many people and places, to his own success and the success of others on the Hill. "I believe that the McDaniel community does something very powerful and critical: it embraces students where they're at, as human beings in the process of discovering who they are and who they want to be, and it helps them explore that process."
Fine feels he has learned so much during these four years, particularly from all of his teachers and mentors during his time on the Hill. Fine remarked that Glenn Caldwell, Ph. D., of the music department has been a fantastic mentor, "He has consistently encouraged me to challenge myself in the music program, to extend my knowledge to others through teaching, and to embrace the interconnectedness between the different areas of music."
Fine credits the strength of McDaniel's music program for much of his successes, not just as a musician, but as a leader. "McDaniel's music major has been unique. It has given me the opportunities to excel at a high level within the art of music-making, but also to embrace a liberal arts experience."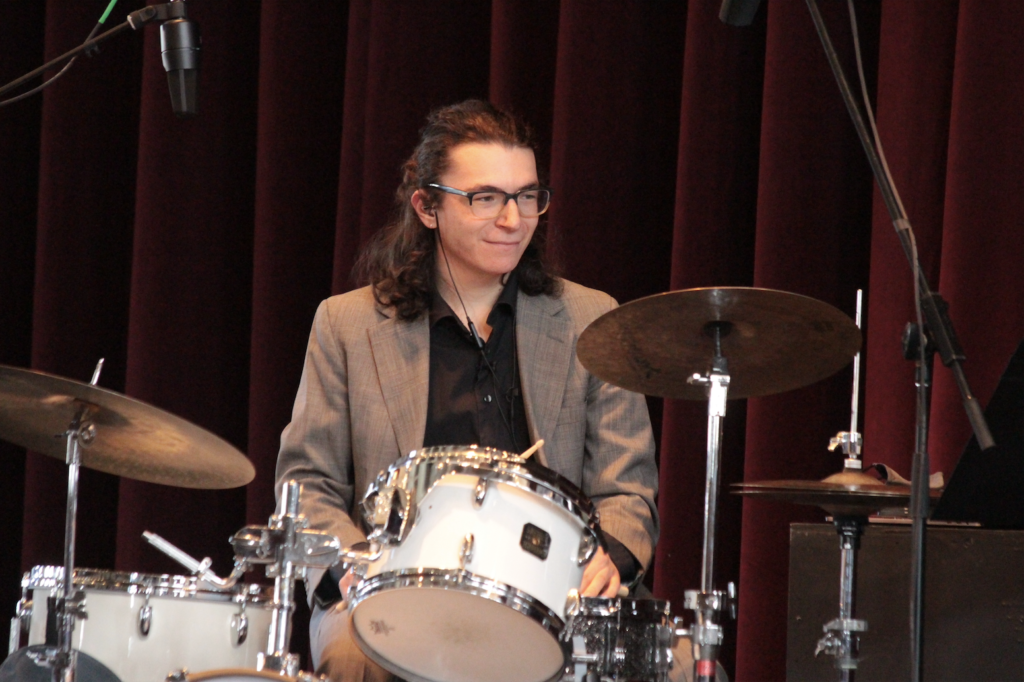 The deactivation of the music program in the Spring of 2019 has inspired Fine. "I am going to carry the spirit of this music department into my world," said Fine. Fine alluded to plans to enter the world of arts advocacy, "particularly to support arts programs that are at risk of getting cut, and to develop arts programs in communities that do not have them."
Another mentor that Fine has been professionally and personally influenced by is Walt Michael, Common Ground on the Hill director and previous mentee of Ira Zepp. "Walt has connected me with the traditions of what it means to be human – to bring people together through music. I have been lucky to find someone so closely aligned to my personal mission and values," said Fine. "The work that he has done through Common Ground is a direct connection to the work that I hope to do in my life: bringing people of differing viewpoints and backgrounds together in dialogue."
To others, Fine advises they curate those conversations and environments that nourish who they want to become. "Create an environment that is nurturing of your growth, that inspires you, that is supportive of you and your passions, and that challenges you to be your best."
In pursuit of that environment, Fine credits other mentors across many departments and the connections being at a liberal arts institution has afford him: Kyle Engler, Jon Seligman, Linda Kirkpatrick, Elly Engle, Mary Bendel-Simso, Amanda Gelber, Henry Reiff, Robert Kachur, Rich Goodman, Sylvan Greyson, Thea Westlake-Stearns, and Camden Ostrander.
To his first-year self, and to all on the Hill or who have yet to step foot on the many stairs adorning the campus, Fine said, "Stay true to yourself and the things that you are passionate about, even when it feels like nobody else 'gets it'. You will find somebody who does."