While McDaniel students enjoyed Homecoming festivities on Saturday, Oct. 19, local runners were having their own fun. These runners, however, had some motivation from which the football team might have benefited: a horde of zombies pursuing them!
For the inaugural "Zombie 5K" of Westminster, over 60 runners made their way across the varied terrain of the Washington Road Community Trail in an attempt to "survive" zombie attacks and make it across the finish line with all of their flags intact.
This event was a seasonally appropriate effort to raise awareness and funds for the WCR Trail. Silvia Upton, an adjunct professor of Spanish at McDaniel, has been working with the trail for years. Upton conceded that there are many races in the spring and knows that people love Halloween. Consequently, Upton and her fellow WCR Trail volunteers decided to plan a more family-friendly race for October.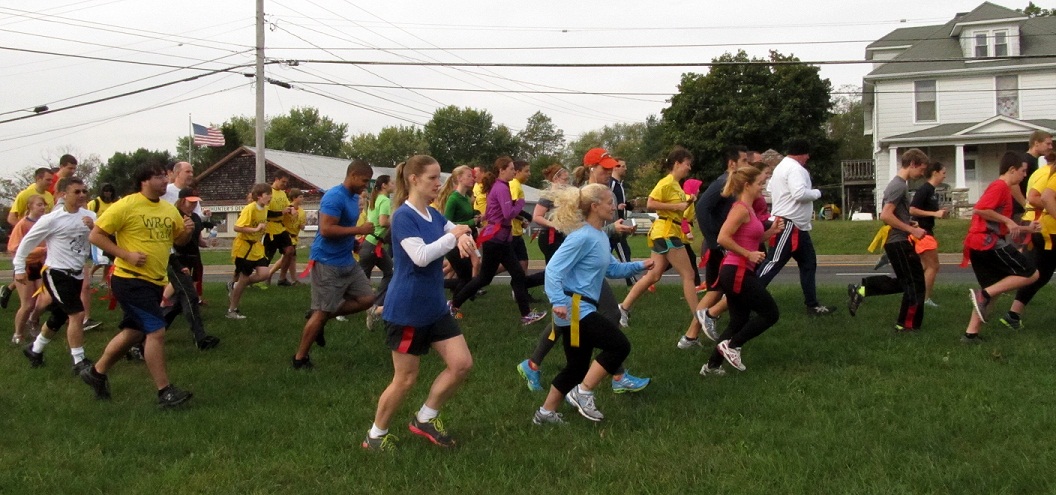 Karen Farley of the Hill Center Family Y, another highly-involved WCR volunteer, explained that the trail is maintained solely by volunteer work and with donations. She believes the trail to be an important, yet fairly unknown feature of Westminster despite having been available for public use since 1994. "It's a safe place to run, walk, and bike. It's a place for families to stay healthy together," Farley asserted meaningfully.
At 9:30 a.m., clusters of runners began to gather at the Westminster High School Media Center. They made their way to the registration tent to receive yellow "WCR Trail" t-shirts and bright flag football-style belts with Velcro strips. A wide range of runners stretched in the parking lot, from high school students and their parents to seasoned runners.
As they stretched their calf muscles for the trek ahead, two experienced racers, Pam Schmidt and Wing Lan, clarified that they weren't afraid of the zombies. "I just don't want them to get my flags!" Lan exclaimed, smiling.
Rob Shilling, Chairman of the WRC Trail, explained during the "Pre-Race Chat" that the 5K's route wound its way past Westminster High School's stadium and circled back past the YMCA; participants would run across cracking sidewalks, grassy fields, and through root-ridden woods. "I don't know what ever could be in the woods," joked Shilling. The shifting crowd gathered around him chuckled.
Shilling highlighted interactions with the waiting zombies, most of which were volunteering undead veterans of McDaniel's Humans vs. Zombies Club. Signs along the trail warned runners where the zombies might be waiting to rip the flags from their belts. Runners could skitter around the predators, but couldn't swat them away; likewise, zombies couldn't make chains across the pathways to block runners.
"So no crossbows?" called a voice from the bantering crowd. Shilling made a good-humored reply, "No, we don't want you or them hurt!"
At ten o'clock, the runners grouped together by the road to begin their faux-apocalyptic adventure. The timers were started so that runners could ask for their official time as they crossed the finish line. Then, they were off!
About 14 McDaniel zombie volunteers waited in the woods for their prey to sprint past. Some had spent hours on their make-up, waking up at seven in the morning to put the finishing touches on bubbling latex wounds. With tattered clothing and seeping cuts, these zombies were actually pretty terrifying.
"We were in a nice little clearing where the trees thinned and the trails split off in a few different directions, so there were some really good hiding spots for us. One of the freshman guys with us was actually up in a tree, and would signal for us that runners were coming by shouting the word 'dinner,'" said Nick Tuori, Vice President of Humans vs. Zombies.
The zombies pulled at belts, but had been instructed not to "kill" everyone. A lucky few made it past the four packs of zombies with their brains in-tact.
As he waited by the finish line with water, fruit, and Halloween treats for the runners to enjoy upon their return, Rob Shilling considered the 5K a success made possible by enthusiastic volunteers and participants.
With big plans in the future, the WCR Trail needs all of the support it can get. A grant request is being written to the state for major additions to the trail. Bluebird boxes and benches already sit along the scenic paths, but paved trails for handicap access, pavilions, and a disc golf course could become a reality.
These improvements would only increase the usage and importance of the trail to the Westminster community. WCR Trail hopes to become a staple for those looking for some tranquility and fresh air in the midst of the city.
What better way to help then get involved! You can find ways to help the WRC Trail at its website: http://www.wrctrail.org/?page_id=132