September 14th, 1970
Dear Mrs. Brett,
I am sending Richard's spelling book home for him to complete. He is capable of doing much better work. Richard frequently is not listening to directions and then he hurries through his work and makes careless mistakes. I feel if Richard would apply himself he could be an excellent student.

Sincerely,
Mrs. Pair
This letter hangs on the wall of associate professor Richard Brett's office in the Communication and Cinema Department. Brett once was an easily distracted student who didn't pay attention to detail and was rebellious enough to receive a letter home from his third grade teacher. But today, he is a college professor of cinema and a professional screenwriter with a Cine Eagle award, three screenwriting awards, and a regional Emmy under his belt. If only Mrs. Pair could see him now.
It was the summer of 1975 when Brett started becoming fascinated with film. His family was staying at their summer house in Lake Michigan and Brett decided to go see "Jaws" alone at the local theater.
"There was a glowing clock in the corner of the film and I kept asking myself throughout, when will it be over?!" remarked Brett.
"Jaws," the 1975 blockbuster thriller by Stephen Spielberg, would have any kid asking himself or herself that question at the time. Yet after the film was over, Brett wanted to see it again.
"I wasn't thinking about majoring at that age, I just enjoyed the film…Of course it made swimming intense that summer," said Brett.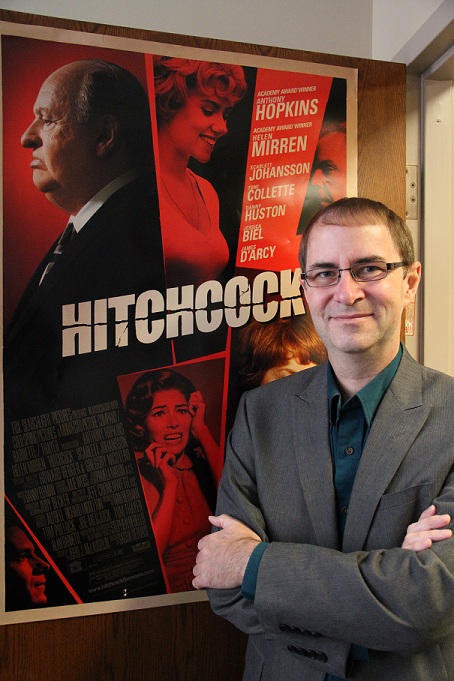 A huge poster of "Jaws" hangs in Brett's office, which is also decorated with his own artwork, shelves of many books and films, cinematic posters and action figures from "Star Wars," "Casablanca, and Hitchcock.
Alfred Hitchcock is one of Brett's favorite cinematic idols.
"He was brilliant visually as a storyteller, created suspense, economically efficient and could make a film pretty much anywhere," said Brett.
"You can't take a Brett class and not see a Hitchcock film," said Walter Henderson, a senior cinema major.
Starting out as a math major, Brett transitioned into sociology and anthropology during his undergrad, taking production electives just for fun.
"I can't believe I'm getting a grade for this," Brett thought while taking his production courses. At the time, it was not something he thought he could make into a career.
Brett received his graduate degrees from the University of Iowa and the University of North Carolina. While in graduate school, he received a regional Emmy for one of his short films, though he did not have the money to attend the live taping.
Brett's background in filmmaking is rich with experience being a production assistant, videographer, video editor, and script reader. He would teach at St. Andrews University in North Carolina before moving to McDaniel in 2010.
Brett has had a successful career as a screenwriter thus far, having sold two screenplays to production companies. His most recent screenplay, "Love is Blind," was his first attempt at a romantic comedy. The story is about a woman who doesn't trust men, thinking they are only interested in her looks, so in order to date her, Jonathan pretends to be blind.
"Love is Blind" has won the StoryPros International Screenplay Contest, as well as The-Greenlight.com and A/Exposure monthly screenwriting contests in 2012. The screenplay has also been sold to a production company in Germany.
While teaching at McDaniel, he continues to write throughout the year, motivated by the screenwriting class he teaches at least once every academic year at McDaniel.
"I see myself still teaching and selling a few scripts, but teaching is not just my day job. I love both worlds," said Brett on balancing his screenwriting career with being a college professor.
Brett is working on two scripts right now along with concluding his teaching of the narrative film production, intro to cinema, and screenwriting courses this semester.
"Three years ago, I would've never dreamed of being in this process," said Brett of his career.
Brett wants to remind students, "I don't have the last word. I myself still have so much to learn but being a successful screenwriter does give me street credit."