"The Vagina Monologues" opened up for its eleventh production on Feb. 7 and 8 at McDaniel College. Directed by junior Rachel Israel, this year's production welcomed a cast of 22 new and returning cast members. While this witty and sometimes sad episodic play has become an annual McDaniel tradition, it has also shed light on the global movement to stop violence against women and girls, better known as V-Day.
This year's student led production was directed by Rachel Israel and overseen by English professor and "The Vagina Monologues" advisor, Becky Carpenter. It also welcomed a cast of 22 new and returning cast members.
"The Vagina Monologues" highlights women's violence and female empowerment through various monologues such as the "My Angry Vagina," "Hair," "My Vagina Was My Village." "Vagina Monologues" playwright Eve Ensler changes the monologues performed every year to spotlight different examples of violence against women.
In conjunction with V-Day and other artistic works, "The Vagina Monologues" helps to raise funds for V-Day and bring awareness to their global movement.
Like all productions of "The Vagina Monologues," McDaniel's production of "The Vagina Monologues" raises money for V-Day's One Billion Rising for Justice campaign. Money also goes to local organizations. This year's local beneficiaries include the Rape and Crisis Intervention Services of Carroll County and the Family and Children's Services of Carroll County
While it is not currently known how much the show made this year, according to Vagina Monologues advisor and English professor Dr. Becky Carpenter said that in the past 11 years, the show has raised $3,000 to $5,000 per year.
The continued success of McDaniel's "Vagina Monologues" is largely due to the cast members' participation, and the sisterhood they form to fight violence against women and girls. As Carpenter states, "It is more of a sisterhood…it is a place where women come together to celebrate women's power, women's sexuality, and this idea that women do not have to be victims. That women themselves can fight back and help support other women."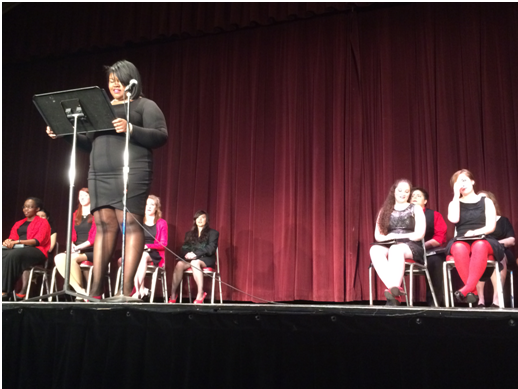 The sisterhood and play shed light on violence against women through powerful examples of rape, sexual assault, and domestic violence through personal anecdotes. At the end of every "Vagina Monologues" production, one cast member shares her personal experience with violence. This personal account is used to show that "this issue needs help and is bigger than many think," according to senior cast member, Kelsey Gondek.
While this year's production had another great year, it missed McDaniel's production founder Rebecca Orenstein, who passed away on Aug. 31, 2013. Orenstein, a local community activist, started "The Vagina Monologues" at McDaniel in 2004. She is also the main reason for the production's continued success. The production paid tribute to Orenstein at both nights of this year's show. "The Vagina Monologues" will keep her legacy alive is by "continuing the shows," says Carpenter. "I think that will mean more to her than any other accolades."
Anyone interested in participating in next year's production should look out for flyers on campus next semester and attend the Vagina Monologues interest meeting. You can also talk with next year's director, sophomore Kristen Gindlesperger or contact the play's advisor, Becky Carpenter at rcarpent@mcdaniel.edu.
Carpenter emphasizes that there's a catch to acting in this production, in that, "you must have a vagina." However, men can still help with the production behind the scenes through such roles as directing and producing.