The McDaniel women's lacrosse team took the field against St. Mary's (Md.) on a frigid night on Wednesday, Feb. 26. After building a six-point lead, the Green Terror gave up a few goals, but were able to hold on for a one-point victory (14-13).
Samantha Barbeito scored 25 seconds into the game to give McDaniel a 1-0 lead. She finished the game with two goals.  Maggie Quinn and Danielle Entrot each had hat tricks, and Monica Parcell, Bridget Bopst, and Julia Jacobs each had two goals. Barbeito led the team with three assists, followed by Bopst and Mallory Michel who each had one. Goalkeepers Lily Galzerano and Kate Goldstein combined for six saves.
Christy Bishop led the Seahawks with four goals, Shelby Newman had two, and the rest of the scorers each had one goal apiece.  Newman led the team in assists with five, followed by Clair McGagh and Meg Gesner with one each. Goalkeeper Kayla Dunn had eight saves.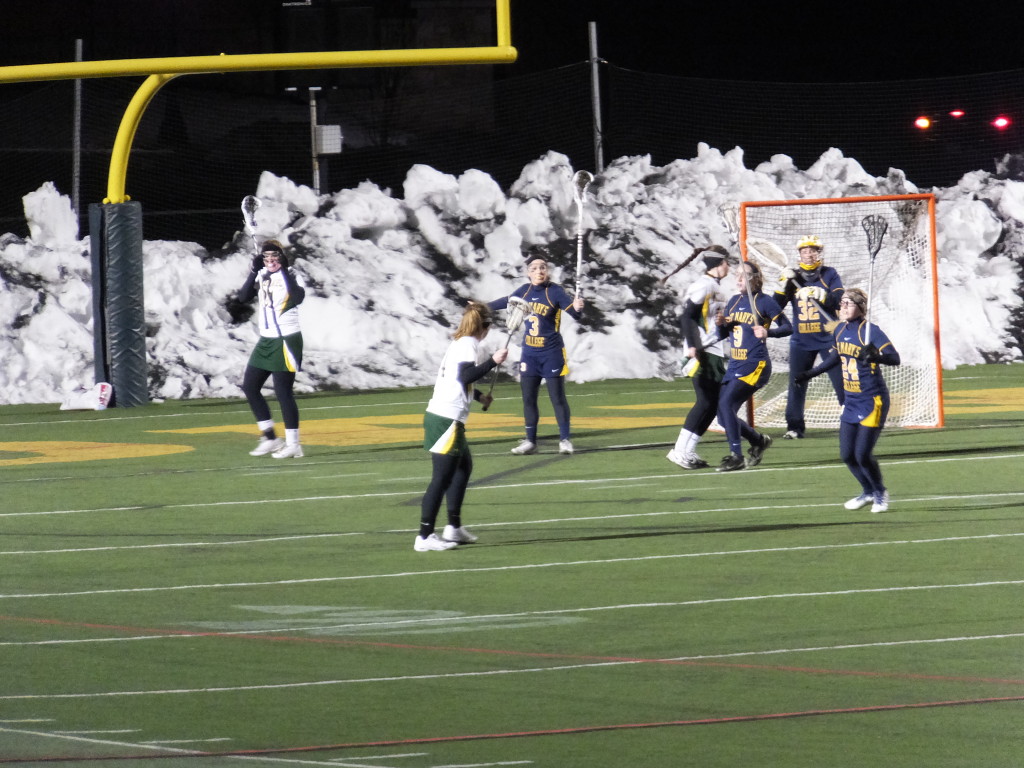 St. Mary's scored three times in less than two minutes to tie the game at four apiece before McDaniel went on a 3-0 run. The score at halftime was 7-5 with the Green Terror in front.
With less than fifteen minutes left in the game, McDaniel was up 13-7.  St. Mary's went on a 5-0 run to bring them within one goal, but the Green Terror were able to hold on and pull of the victory.
This was head coach Kristin Ramey's first win as the McDaniel coach. She said the team did well "listening to what to fix" throughout the game and that they "followed things to a T." She also said that the team's fitness and speed were evident in the game. Some things she thought could be improved were smarter passes and knowing when to run the ball in transition. Looking ahead to the next game, she thinks the team should utilize their improved defense from the attackers when the opposing team is in transition going to the other side of the field.
The next game is at home against Frostburg on Saturday, March 8 at 1:00 p.m.