The McDaniel women's lacrosse team hosted Muhlenberg on Saturday, April 12. After falling behind by as many as five points in the first half, the Green Terror rallied with an 11-goal second half to ultimately beat the Mules 15-10.
Samantha Barbeito started the goal scoring for McDaniel less than three minutes into the first half, putting the Green Terror up 1-0. The Mules then went on a 5-0 run over a span of about 12 minutes, with two goals each from Stephanie Umbach and Casey Armstrong, and one goal from Kayleigh Thies.
Monica Parcell, Julia Jacobs, and Allison Farrell each had a goal, pulling the score to 4-5. Umbach rounded out the scoring in the half with a goal with 2:09 left to play, completing a hat-trick for the day.
In the second half, McDaniel's Bridget Bopst scored on a free position shot just 2:46 into the period. Following her within the next seven minutes were Danielle Entrot,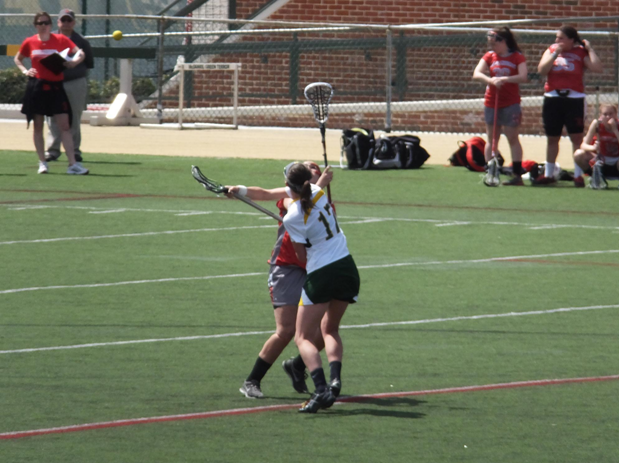 Parcell, and Farrell (2). Muhlenberg's Ally Shaffer also scored within that time. This made the score 9-7 in favor of the Green Terror with 20 minutes left to play. Thies scored again for the Mules less than a minute later.
McDaniel had a 5-0 run of their own over the next nine minutes, with two goals from Jacobs and three from Entrot. Umbach scored again for the Mules, along with teammate Michelle Certosimo. Another Jacobs goal with less than 3:30 left in the game sealed the victory for the Green Terror, who move to 7-5 on the season, 3-3 in conference play, with four games to go.
The Green Terror offensive unit had to play some defense in this game, and it was successful in the end.  Freshman Abby Phillips said, "I think we handled the ball really well and capitalized on the offensive ride on the clears, which got us a lot of caused turnovers." She also said, "This is a big win for us being a conference game, and will help us to reach our goal which is top-three in the conference!"
The next home game is on Wednesday, April 16 against Dickinson at 7:00 p.m.