The newest sports gang at McDaniel recently competed in its first tournament competition, winning all of their game matches to take home the big trophy thing.
They upset top-seeded Johns Hopkins by a score of 45-39.
Team captain senior Mike Riffone led the way for the Green Terror, scoring five points, two touchdowns, one goal, and assisting in a knockout in the final game match. Junior forward wing Joe Mahma led the Blue Jays with six points, one touchdown, and three hole-in-ones.
Two minutes into the first period, McDaniel sophomore Al Dentay ran the ball up the middle and passed to freshman defenser Otto Graff, who scored the first two points of the game match. The teams paired up for the 2-on-2 fights. McDaniel won 3-2, gaining two extra points.
They went into the intermission half leading 23-5.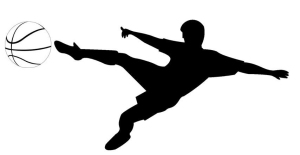 Hopkins attempted to make a comeback, scoring three touchdowns in the third period. Senior left-handed hitter Neil Down was ejected from the game for kicking a Green Terror in the groin after a touchdown, giving McDaniel an extra six points.
McDaniel sophomore Don Key won the game match for his team after doing two laps around the field without being tackled, earning 10 points.
Sportsball, created in 2008 by Moe Luvvin, has been called one of the easiest sports to follow, unlike baseball, basketball or soccer.
The game begins with 10 players from each team lined up halfway between the ends of the field. A tiny white ball sits in between them. When an official person blows his tweety thing, the players fight to get the ball.
The team who gets it must then trade it in for a bigger orange ball, which must be passed among players to get to the end of the field. If desired, players can throw the ball into giant hoops set up on each side of the field for seven points.
After scoring touchdowns, there is a two-on-two fight round between the teams. They break into five pairs and, the official persons match them up with pairs from the other team. Fights last for one minute, and the team with the most hits or takedowns wins. The team with the most wins gets two extra points.
There are four period quarters that last fifteen minutes each, with an intermission half after two. Each team gets five discussion breaks per half.
McDaniel will take on Dickinson on April 10 at 5 p.m. in what should be another epic sportsball match game.