This year, we're digging through the newspaper archives! McDaniel's student newspaper has gone by many names through the decades: The Black and White, The Gold Bug, Scrimshaw, The Phoenix, and, of course, The McDaniel Free Press. A few articles will be posted each month to give students insight into life at the college in the not-so-distant past.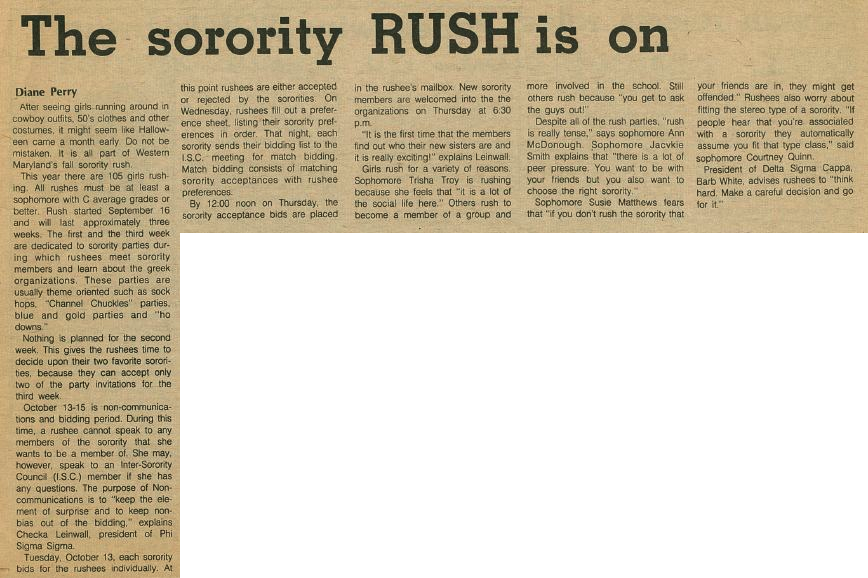 This article, from the October 1981 issue of The Phoenix, details that year's sorority rush. This look into the past reveals the requirements of Potential New Members at that time, the events and festivities of the week, as well as students' concerns about choosing the right sorority. If only the article featured a picture—I'm sure we'd get to see some choice '80s fashions!
According to the October 1984 of The Phoenix, some things never change: departments continue to struggle for funding, students continue to voice their displeasure at the use of what funds are available, and people continue steal weird things.
October of 1992 was apparently a rough time to be a freshman. The issue of First Year Students having cars on campus was revisited this year—with arguably better results! Now to find a parking space…

There were some obvious issues in dorms during October 2005. It's good to have some prospective as students still battle the occasional uprising of bed bugs. Living en mass is a great opportunity for creepy-crawlies and critters to converge. At least we don't have "mouse mansions" anymore. Not that we know of, that is.
For more articles, check out Hoover's Student Newspaper Archives.