In a back-and-forth game with the number two seed Stevenson Mustangs (19-9) in the ECAC tournament, the seventh-seeded Green Terror (14-13) ultimately dropped a close contest 72-66. This game marked the end of the careers of seniors Andrew Merlo, Philip Perry and Nic Martin, all of whom had major contributions to the Terror effort with 13, 8 and 6 points, respectively.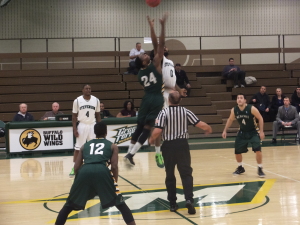 The game was a microcosm of the season for McDaniel, as they started out 3 of 4 from the field and were able to keep the larger Mustangs in check for the majority of the first half. However, Stevenson's bench, led by Colby Giacubeno's team-high 17 points, proved to be the tipping point, as their 23-6 advantage off the bench came largely in the decisive second half.
Continuing to be a terror on the offensive end and a force on the glass, junior Tim Stewart led McDaniel with 18 points and 9 rebounds, while junior Wes Brooks chipped in 14 points, including going 2 for 3 from beyond the three point line.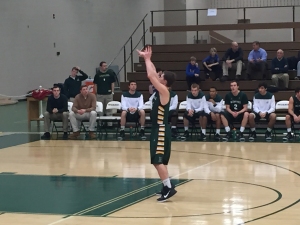 For the first time in quite a while, free throws, an issue that had plagued the Green Terror all season long (shooting just 59 percent), started falling to the tune of 84.6 percent (11-13). This strong shooting from the line was simply not enough to put away Stevenson, who shot an astounding 69 percent from the floor.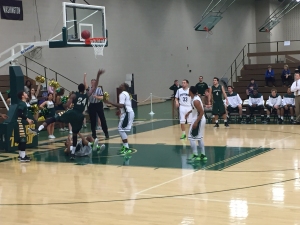 Overall, the season had its ups and downs, but was marred by inconsistency. It started with a win at the Penn-State Harrisburg Tip-Off Tournament, and included something had never happened before: beating two top-10 teams in one season. Conference play was streaky; a four game winning streak, a four game losing streak, a three game winning streak and a five game losing streak ultimately cost the Terror a shot at hosting a conference tournament game and a possible NCAA berth.
The three graduating seniors will be missed in the rotation next year, as they all played significant minutes. However, there is talent in the wings, not to mention the fact that the team will return arguably its most consistent scorer in Tim Stewart, its best outside shooter in Wes Brooks and slasher Cam Royster. The 2016 season holds quite a promise, and it will be interesting to see if the potential is delivered.