It is tradition here at the Free Press to kick off every school year with a welcome issue. Here's a look at the paper's (then called The Phoenix) welcome issue from 2000: the year of the PlayStation 2, of "Oops!…I Did It Again," and – of course – the year the majority of our Class of 2022 was born.
"Fall semester brings changes"
Students in the fall of 2000 had mixed reactions to the changes with which they were greeted when they returned to campus. Skeptical of the school's motive to increase the parking permit price – from $30 to $40 – one sophomore complained that "you can't even find a parking space." The Pub also sharply reduced the number of items on its menu to increase its efficiency, which students surprisingly did not find to be a difficult adjustment. The Fall 2000 semester saw the introduction of Ethernet to campus as well.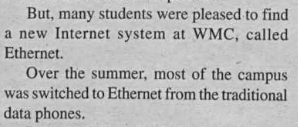 "Crowded rooms and room service: Students encounter temporary housing shortages"
Resident students at McDaniel, then called Western Maryland College, found themselves in close quarters at the start of the 2000 school year. Not being able to predict the amount of room openings because "some students decide at the last minute to live off campus or leave the college all together" was the reason for overcrowding, according to the Dean of Admissions at the time. 32 double rooms in Rouzer Hall and Whiteford Hall were converted into triples, and some students were even put up in the local Best Western while they waited for renovations to their on-campus houses to be completed. Below is a testimony from a student who stayed at the hotel.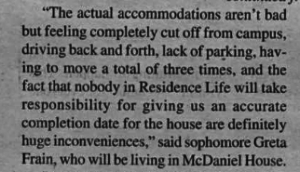 "Tiger Woods: the 200 million dollar man?"
Just four years after Woods' professional start, one of Western Maryland's sports writers was highly critical of the golf star. Comparing Woods to Jack Nicklaus, a previous golf champion who had earned his living playing, the writer notes that most of Woods' earnings came from endorsements rather than the actual game. Further spelling out his distaste for repeat-tournament-winning Woods, the writer said, "No person should win all the time, because that just gets boring."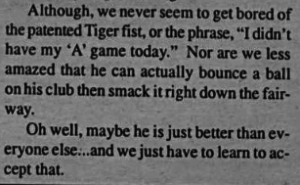 "Friendly advice for incoming students"
Here, a staff reporter provided guidance for the newcomers on the Hill, the Class of 2004. His advice is timeless: balance studying and fun, forge relationships with your professors, and don't leave essays until the night before – and, "get used to that smell" in Rouzer Hall.