While January is typically a quiet month on campus, the College's newspaper staff has often been on scene to report the new year's first stories. Here are some January front-page articles students read in Western Maryland College's school paper throughout the twentieth century:
January 15, 1931: "Famous collector of antiques will lecture"
Students had a riveting start to their new year in 1931 with a mandatory lecture on American furniture, delivered by Wallace Nutting. Nutting, a "well-known antique collector and humorist" who traveled nationwide to find pieces for his furniture collection, had an extensive array of furniture pictures he used as aids to his lecture. Having found his niche in colonial furniture, Nutting reportedly went "to almost any extent to secure pictures of articles dating 1750 or earlier."

January 9, 1951: "It's Been Fun"
This editorial touches on the Gold Bug's past year just before an editorial staff change. According to 1950's team of editors, their accomplishments included correctly reporting "most" meeting times, spelling a "good percentage" of names right, and "only one mistake per page in a recent issue." The editors alluded to an unspecified controversy stirred by the paper, thanked the efforts of the copy editor, and wished success to the incoming staff – and made sure to note that they all felt "proud that [they] were a part of the GOLD BUG this past year."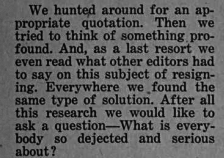 January 10, 1972: "Jan. term"
This two-paragraph piece contended that the January term is a time of tranquility. Comparing the short term to the eye of a hurricane, this Gold Bug reporter reflected on the lack of pressure students feel between the fall and spring semesters. Thanks to quieter dorms and shorter lines for food, Jan term is a "deep breath, a thoughtful pause," said the writer.
January 22, 1993: "Western Maryland College May Lose Its Name"
Nine years before Western Maryland College became McDaniel, school officials were already discussing a name change. Advocates for and against changing the College's name vehemently defended their positions – according to President Robert Chambers, the name was "a continual nightmare" that inhibited the school's growth. He cited confusion around the location of the College as one of the key arguments for a change. On the contrary, some members of the WMC community feared alienating alumni and even upsetting students. One senior history major asked, "We have built our foundation and reputation on this name. Why would we change it?"