"We are, in street terms, some real ass people."
Billy Lyve (given name Billy Dee Williams), CEO of Wisdom Court Entertainment, sat down with us to discuss his aspirations for downtown Westminster. Along the way we connected with two rappers and vision-sharers in the studio, Jason "J Cam" Campbell and Brandon "Cue" Smith.
Both Lyve and Campbell are from Carroll County. They attended Gateway High School, one of Carroll County's alternative educational environments, during its first years. During those years, the gateway school served as a disciplinary school. "A lot of the kids that we deal with, that do have problems, they go there too. So that's another way that we relate to them," said Campbell.
They hope to find and mentor young people who might be struggling with their education or heading down a negative path. "When we were growing up, there were no mental health crises, so people were just crazy and we had no idea what was wrong with them. They never got help, they never got assistance, and they're just lost […] we're not counselors per se or whatever but we're just trying to give people an outlet we didn't have," said Lyve.
"One of the things we're trying to do with our nonprofit is to catch the kids and stir them and show them there's different things to do," said Lyve.
Wisdom Court Entertainment strives to reach young people and provide them the tools to take creative expression into their own hands. The crew stresses the importance of a range of skills, reaching far beyond the expected role of an on-stage performer, including songwriting, video production, recording, studio etiquette, photography, graphic design, and more.
"We want to show people that there's a thousand other things to do other than just being a superstar," said Campbell. "Everybody, every race, every creed, every sexuality, you can go to College, you can succeed. You can become something. There are people out here that do better than people out here, if that makes sense."
Wisdom Court has a strong desire to continue to network through community events and connect with artists in the community and get them connected to opportunities they wouldn't otherwise have.
"It's scary, it's exciting, it's overwhelming, it's… it's lovely. I love it," said Campbell.
Through his booking agency, Lyve has booked gigs for up-and-coming bands and rappers' shows at venues like the Ottobar, 8×10 and Baltimore Soundstage. These gigs are often unreachable for unsigned artists, but Lyve makes it possible.
Lyve, a hip-hop artist himself, felt the impact of the pandemic acutely on his lifestyle as a touring artist, but he viewed the onset of the COVID-19 pandemic as an opportunity to slow down and focus on his priorities.
"It gave you a chance to think," said Lyve. "The process of having time to think about your next move and planning your stuff out is the most crucial thing, and that's what I didn't do all these years. I was running the treadmill, I wasn't going anywhere. My Instagram numbers looked cool, but it was doing nothing for me. So we slowed everything down."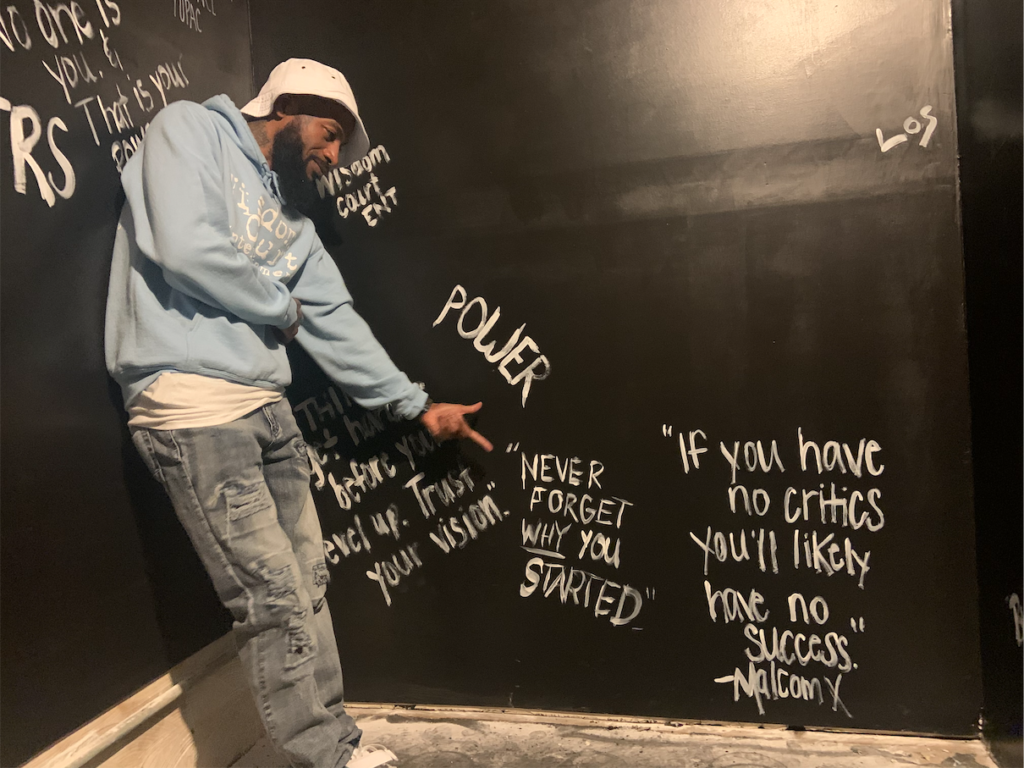 Lyve "felt hopeless before we got this place. I was trying to figure out what to do. I was kind of lost." Live music was shut down, so there were few opportunities for Lyve to make money down the avenues he normally turned to.
"Everything stopped, so I was getting really really hopeless. We had zero dollars. We had no money," said Lyve.
Carroll County community members were graciously able to offer Wisdom Court Entertainment the support they needed to get off the ground. "Every wall, every piece of paint, carpet, door, is from people in the community," said Campbell.
Wisdom Court turned to the Westminster Online Community Facebook group, GoFundMe, the Mid-Atlantic Gigabit Innovation Collaboratory, Studio-E, and the individual support and donations from other community members to get off the ground.
Due to the helping hands of community members, who volunteered anything they could, from time to money to labor, Wisdom Court Entertainment has found the backing they need to have a stable foothold in the Westminster community.
Now, Campbell describes the organization's mission to reciprocate the support the community has given them. "There have been multiple different ways that we have taken from this community over the past two and a half decades. Multiple ways. And back then it was like, that's the only way to survive. Now it's like let's give everything back plus 100% more."
"If more people know what we're doing and get a chance to see how real people that we are, we'll get more help and more assistance so we can help more people and do bigger and better things," said Lyve.
"Our overall goal is to showcase a side of Westminster that a lot of people don't think exists."
Evident by the community's support, from financial contributions to putting up studio walls during their lunch break to attending a hopping Easter egg hunt downtown, the town of Westminster is ready to embrace the studio and its mission.
"This definitely is home away from home, it's ours. I'm talking the whole community, this is ours. Let's enjoy it, let's get together, let's set up things. Whatever. Let's get together, let's celebrate, let's learn, let's do it together," said Campbell.
The crew at Wisdom Court unanimously expresses excitement and intrigue about McDaniel students getting involved.
"My message to McDaniel College is: Pull up. What's your ideas, let's talk. I'm pretty sure I can help you with your ideas," said Lyve.
And if that wasn't incentive enough, Lyve offers in classic swagger only a true hip-hop artist could possess,
"You come here? You get offered a Fruit Roll-Up."