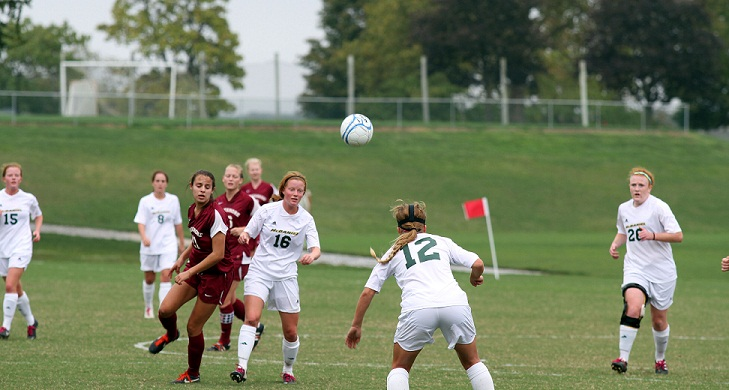 Despite the dreary weather, the stands were full on Saturday, Oct. 12 as friends and family came out to support the women's soccer team. Cheers echoed across the field as the Green Terror won 2-1 in overtime against Swarthmore, the eighth ranked team in the conference.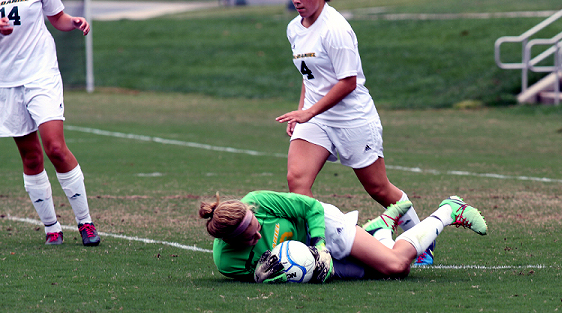 McDaniel, in the middle of another winning streak, worked to continue their record. Their fifth conference game of the season would go on to be their seventh win in a row. The women's team now sports a record of 10 wins and two losses.
The Green Terror started the game with a bang. An early goal from freshman Christina Wroblewski in the third minute created an advantage that set the tone for the majority of the game. The team would go on to hold that lead until late in the second half when Swarthmore managed to get a goal. Both sides quickly recuperated and then overtime began. A tense ten minute period ended early when freshman Nicole Hill, two-time Centennial Conference player of the week, scored with three minutes left in the half.
Assistant coach Paul Seegren expressed confidence in the team after the game. When questioned about the upcoming game against Gettysburg, the top team in the conference, he had no doubts about McDaniel's abilities.
"It should be a good match up. I think when you have two top five teams in the Centennial playing together, which makes for one of the best games in the country."
The women's soccer team is impressive, strong, and encouraged, especially by the men's team that stopped by to cheer. The strength of the team is no surprise and simply an ongoing goal.
"We come out and hope that we'll be better and better every day," said Seegren.
The Green Terror will be at Gettysburg on Wednesday, Oct. 16. Game time is 7 p.m. The next home game will be Saturday Oct. 19 at 4 p.m.