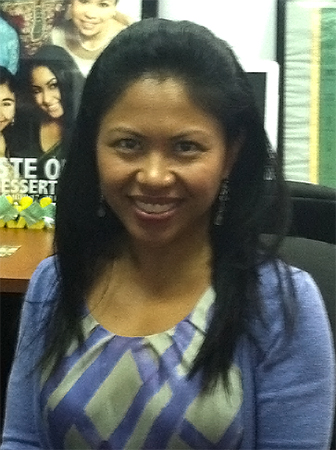 There is a space in between the receptionist's desk and the Office for Diversity and Multicultural Affairs that is open for students to congregate whenever they please. On one wall there's a bookcase filled with various subjects related to diversity. Pushed up against another wall is a table covered with applications for Sankofa, a mentoring program sponsored by the office. And in the middle is a round table at which she sits. "She" is Jennifer Jimenez Marana, a big deal in a small package.Jen
New to the job of director of the Office for Diversity and Multicultural Affairs (ODMA), Jennifer, who insists on being called by her first name, is placed in an odd position. The shoes she fills are partially non-existent. ODMA was director-less last year and the role of the director itself is a little vague. Jennifer describes her role as two- part: raising awareness and offering programs.
In terms of raising awareness, she wants to do more than just focus on diversity issues. Jennifer has mentioned the urge to highlight "the fact that diversity encompasses so much of who we are."  Her goals for the office can be summed up in one word: inclusivity.
"It's really making sure that everybody, especially the new folks to McDaniel community, feel like they're a part of this place."
And when she says everybody, she means it. If ODMA is as successful as Jennifer plans, every student, faculty or staff member will feel like McDaniel is a safe and welcoming home away from home. She hopes one way to ensure comfort will be through various programs on campus. The goal is to plan events that encompass more than one issue.
"One of my pushes," Jennifer stated, "is collaboration. Nothing that ODMA does is solely on its own."
Any and every program sponsored by ODMA will have at least one other department, student organization or office backing it. The goal of collaboration is to do more than "preach to the choir" and attract students who will just find a program interesting. There are hopes that the upcoming big event, speaker Brendan Ayanbadejo on Oct. 16, will draw a wide array of students because of the several intersecting topics, such as race, LGBT issues and sports. Jennifer plans on enticing students by creating programs they would like to attend, like the open discussion forum planned in October.  Students participating in and suggesting events they want is key, but any progress first starts with getting students to show up. Jennifer sees collaboration as a solution to the office's publicity problem.
"In terms of advertising, it's not just my office trying to get the word out—it's faculty, staff, it's students asking students to hype it up."
With a traditional view of publicity, Jennifer plans on spreading a lot of these events through word of mouth, campus announcements, and flyers. However she has realized the powers of social media.
"If I want to get the word out, I need to be there. I need to meet students there."
Jennifer laughs before declaring that she has made a Facebook. (You can friend her here) She's excited to build her friends list. If there is one thing that is sure about Jennifer, it's her fondness for students she has yet to meet. She is eager to engage with the student body, spark conversations and get everyone involved.
But there is a caveat to using social media.
"One of my concerns is actually, especially if we talk about diversity and diversity issues in particular, that I don't think social media's the best forum for that. I think you really need to be in the room and have a conversation."
She's old school, through and through. Face to face interaction is the focus of the way Jennifer wants ODMA to run.
The goal of in-person interactions circles back to her desire to plan programs and host events that would appeal to the student body. There are talks of safe zone training, an opportunity often asked about by the student body, open for students in the spring, but Jennifer is open to any and all suggestions, comments or concerns.
Don't let Jennifer's bundle of energy scare you—she's extremely welcoming. Determined to make a splash on campus, Jennifer wants ODMA to make the right impression on students. "I want folks to know that this office exists, that it's staffed, that we're doing things. We're making moves."