Over the years, McDaniel College has seen many changes with the different buildings on campus, with some buildings changing the purpose for which they were being used and various controversies about how the school decided to structure housing. McDaniel's different newspapers over the years have chronicled the various alterations and plans and how the McDaniel community responded to their changing campus.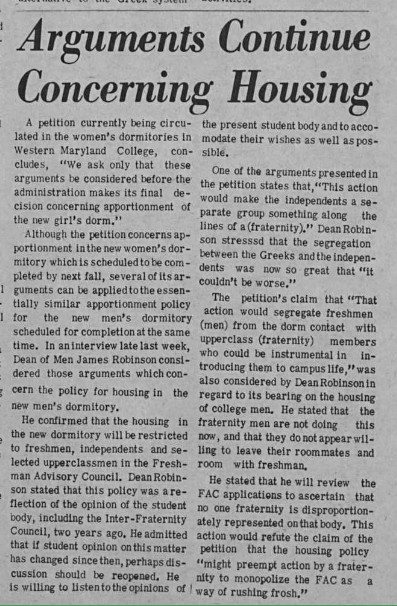 December 8, 1967, "Arguments Continue Concerning Housing."
This article does not state specifically which dorms are being built or where they are located, but some controversy in 1967 concerning the new men's and women's dorms was recorded in The Gold Bug. A petition was circulating during that time specifically concerning the new women's dorm, taking issue with how the school intended to arrange the students by year in the building. The Dean of Men James Robinson is quoted in the article as saying that "the segregation between the Greeks and the independents was so great that 'it couldn't be worse.'" This reflects on the great divide between Greek and independent housing that existed back in the sixties, which is less of a problem today at McDaniel.
---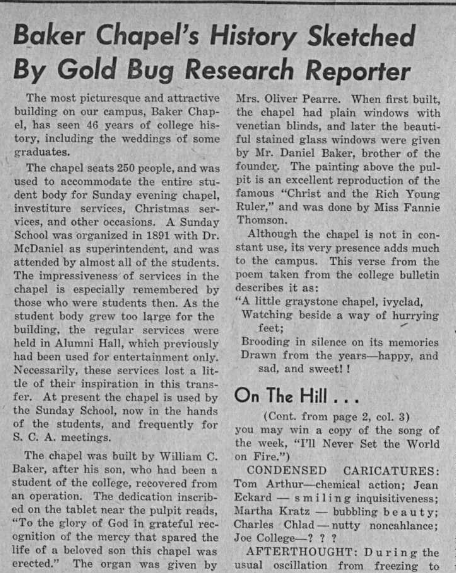 Nov. 27, 1941, "Baker Chapel's History Sketched by Gold Bug Research Reporter."
This article takes a look at one of the older buildings on campus, Little Baker Chapel. At the time this was written, Big Baker had not been built yet; that structure was dedicated in 1958. The author describes the appearance of the chapel as well as how it was used by the campus for Sunday school organized in 1891, which most of the students attended until the student body grew too large and services were moved to Alumni Hall next door. The article ends with a short poem,
"A little gray stone chapel, ivyclad,
Watching beside a way of hurrying feet;
Brooding in silence on its memories
Drawn from the years—happy, and sad, and sweet! !"
---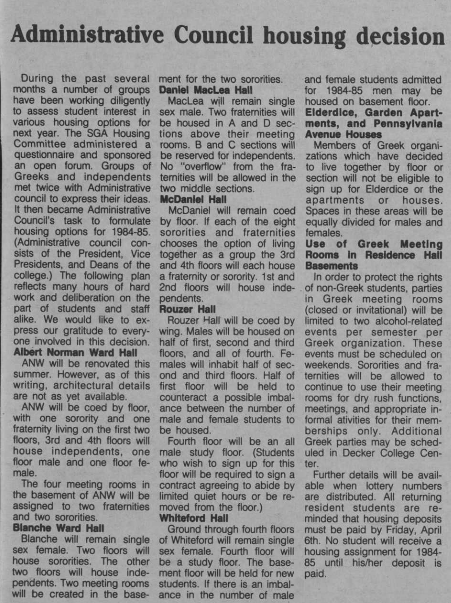 April 12, 1984, "Administrative Council housing decision."
This article from 1984 describes the rearranging and renovations to various dorms on campus. During this time, Daniel MacLea Hall (DMC) and Blanche Ward Hall were designated as male only and female only dorms respectively, while Whiteford Hall, Rouzer Hall, McDaniel Hall, and Albert Norman Ward Hall (ANW) were coed by floor or wing. One difference in ANW was that it also housed a floor for a fraternity. Two more significant differences during this time are that Elderdice was still housing students and that Greek organizations were able to hold alcohol related events in their designated clubrooms, limited to two events per semester.
---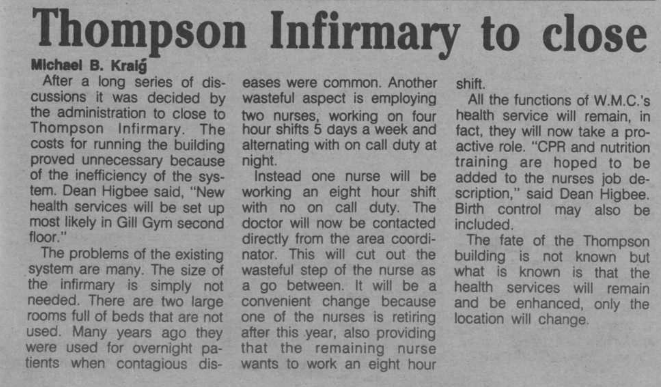 April 12, 1984, "Thompson Infirmary to close."
At one time, Thompson was used as an infirmary for students. According to this article, it had been used in the past to care for students overnight when contagious illnesses were more common on campus, instead of sending them to the hospital, with a nurse on call duty during the nights. In 1984 they found this infirmary no longer necessary, with staff speculating that health services would be moved to the second floor of Gill Gym. Today, Thompson houses payroll and other necessary offices for the college.