While our paper's commentary section has a faint tendency to prompt anger and concern to this day, many particularly sassy, aggressive, and humorous commentary articles appeared in the Phoenix (the name of the paper at the time) in the fall 1999 semester. Read a few excerpts:
Sept. 16, 1999, "Orientation Disappoints."
Having just progressed through new student orientation, this writer decided to voice his criticisms quite directly. He specifically disapproves of the lack of time to get to know his roommate and being moved around to a variety of events and meetings. He states, "…we slept through a number of boring, pointless speeches and rang a bell in our school's courtyard to 'officially' induct us into WMC." Later, he describes being "herded" to a meeting with his RA to review college policies, noting, "we may or may not have heard this in kindergarten." Overall, he resents the lack of free time, being unable to set up his computer, having no freedom he had yearned for, and being in situations in which he felt "forced" to make friends.
Sept. 30, 1999, "Glar Penitentiary."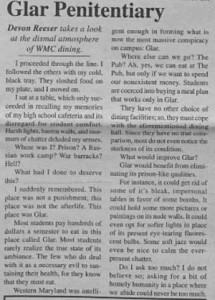 Using a comical, descriptive prose, this writer likens Englar Dining Hall to a prison. He describes what he believes is an uncomfortable ambiance, typical of a high school. He adds, "Western Maryland was intelligent enough in forming what is now the most massive conspiracy on campus: Glar." The writer expresses frustration at the mandatory purchase of a meal plan that worked only in Glar at the time. "Glar Penitentiary" ends with suggestions, such as adding booths, improving lighting, and even "soft jazz." Interestingly, many of this student's concerns have been addressed.
Oct. 21, 1999, "The Pub's Four-star dining experience: Journey to the dark side."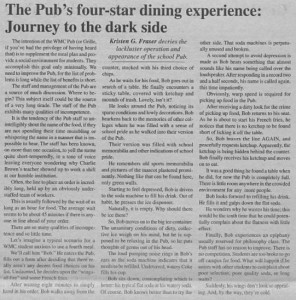 This article describes in detail what its writer felt was wrong with the Pub. She first criticizes the workers, stating that they yelled people's names unintelligibly, "leaving everyone wondering why Charlie Brown's teacher showed up to work a shift at our humble institution." The writer then moves onto wait time, describing "Bob's" hypothetical visit to the pub; first waiting 45 minutes to order, not getting precisely what he wanted, then sitting at a sticky, unclean table. "Bob," depressed by lack of décor, then couldn't get ice from the soda machine, and ended up with "watery coke." Bob then "braves the line AGAIN and peacefully requests ketchup." After his experience, he reflects on how the Pub has no competition and no incentive to improve.
November 18, 1999, "Carl's Column of Complaints."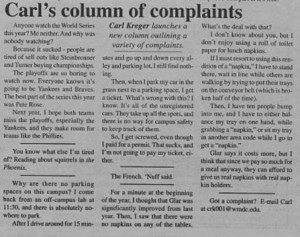 Carl, a Western Maryland student, was possessed to begin a column within the commentary section consisting entirely of lists of complaints. In this edition, Carl notes that no one watched the World Series "because it sucked," insults The Phoenix's tendency to write about squirrels, and includes the lack of parking spots on campus, "The French," and finally the absence of napkins at tables in Glar.
Dec. 8, 1999, "Top ten signs that new millennium harbors end of world."
In this humorous article, the writer enumerates just why Y2K could truly be the end of the world. In descending order, he credits Hillary Clinton's impending election as a New York senator, country music's continued popularity, inadequate athletes making millions, his concerns of scientists being able to clone Pauly Shore, the movie Titanic making more money than the first Star Wars prequel, Late Night With Conan O'Brien airing at a bad time, "the perennial powerhouse teams of the NFL" all having subpar seasons, the strange rise of the Reform Party in the presidential election, The Simpsons, The X-Files, and That 70's Show all being on the same network, and the fact that the flex class was still at WMC.